Congratulations to Alice Tao, Hannah Wu, Amy Xia, Martin Chan, Tony Cheng, Peter
Tan and Helen Xu, Ivy Education's Student of the Month!
---
Teacher Holly Cole:

"I nominate Alice Tao. Alice has been with me a short time but has made great strides in
pronunciation and comprehension. Alice gives every lesson 100 percent of her effort.
She repeats unknown words 2, 3, 4 times in a row, until she is certain she is saying the
word correctly. Alice consistently takes notes and refers back to them during lessons.
It is through her diligence and hard work that she has made so much progress in such a
short amount of time. Alice is a joy to have as a student!"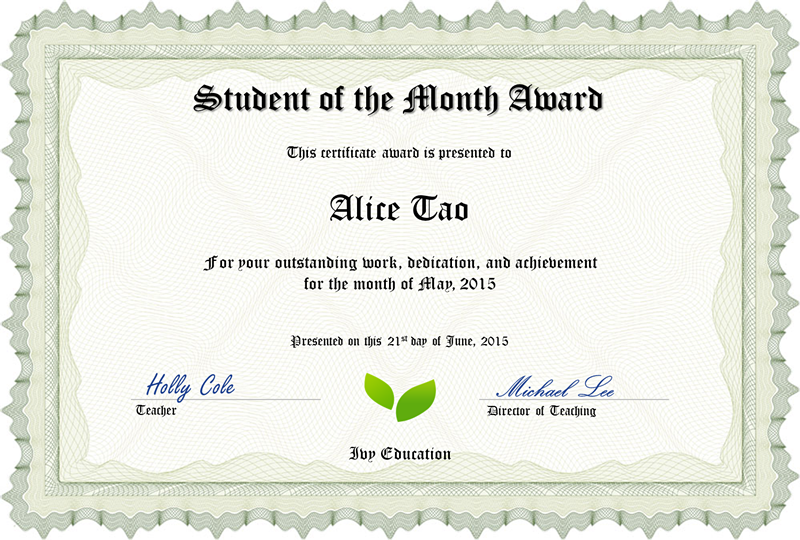 ---

Teacher Nancy Fisher:


"I would like to nominate Hannah Wu. She has a way of asking questions that makes
every class more interesting and enjoyable. Her English level is quite high. No matter
how high I raise the bar on her vocabulary, she learns all the new words with ease.
She's a hard-working and successful student. "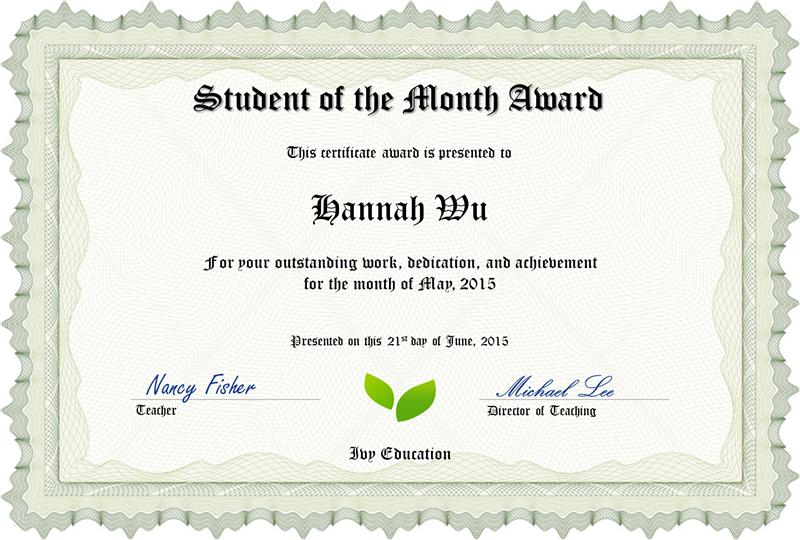 ---

Teacher Michelle Baughan:

"I would like to nominate Amy Xia! I would like her to be a candidate because she has really 'bounced back' - by this, Amy has always been a great student; however, here lately, she has really started to contribute to our class in discussions and even ask questions again. Amy is a wonderful young lady and an excellent student! "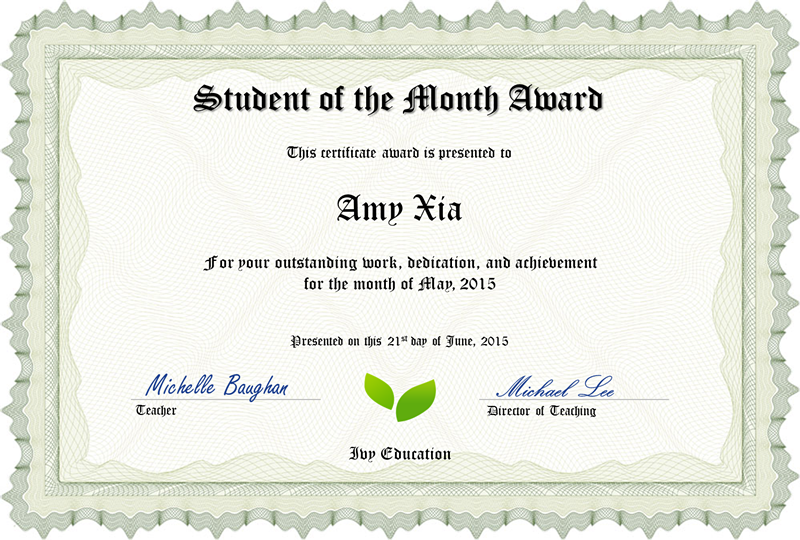 ---

Teacher Robin Garrison:


"I would like to nominate Martin chan. Martin wouldn't say two words to me. Now he talks
quite a bit. he is reading several books a class, takes notes, and is moving quickly through
the reading egg lessons. He is eager to learn."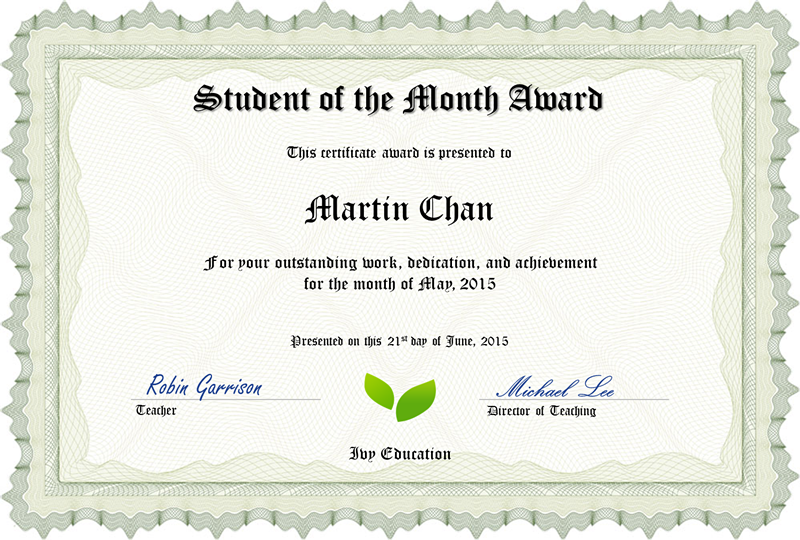 ---
Teacher Peggy Dieckman:
"I would like to nominate Tony Cheng. He works hard every lesson take notes and record
any new words "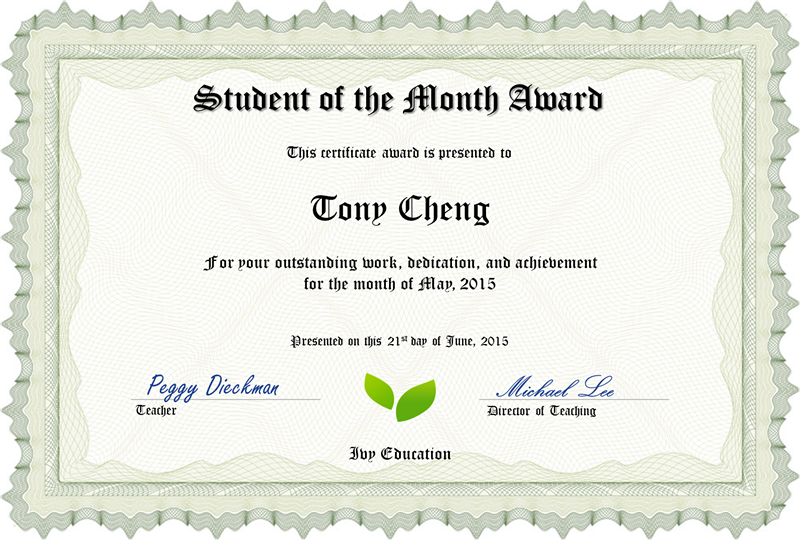 ---
Teacher William Siminovsky:
"I would like to nominate Peter Tan. He is a very dedicated student, works very hard and is
doing extraordinary work. "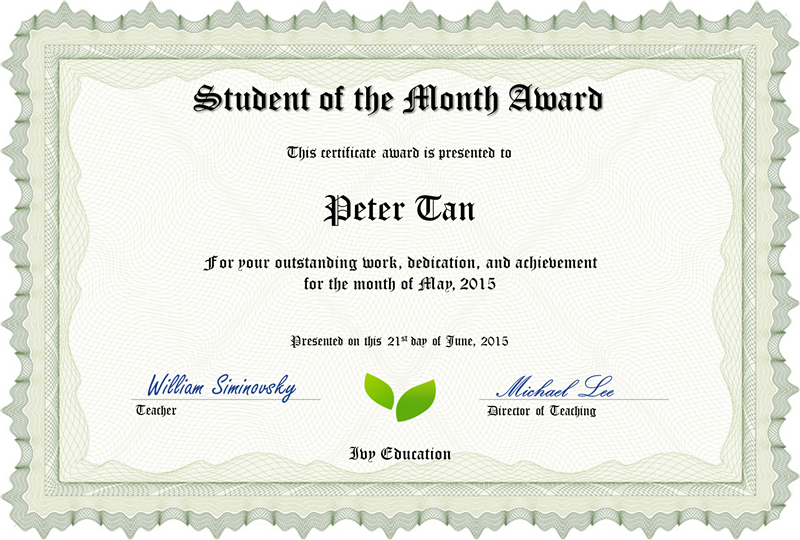 ---

Teacher Sandra Richards:


"I nominate Helen Xu. She is tireless in her pursuit of English vocabulary and always shows
up for lessons with her dictionary. She takes the initiative."