Congratulations to Amy Chen、Angela Jin、Anita Liu、Edith Xu、Erica Wang、Eugene Liu、Johnny Gong、Joy Zhou、Rayna Wang、Sophia Dong Ivy Education's Students of the Month!
---
Teacher Robin :
I would like to nominate Amy Chen for student of the month. Amy is always on time and ready to learn. Her vocabulary has improved tremendously since her first day with me.She always asks questions about what she is studying, and does well on the tests. Amy is a hardworking student and I enjoy teaching her.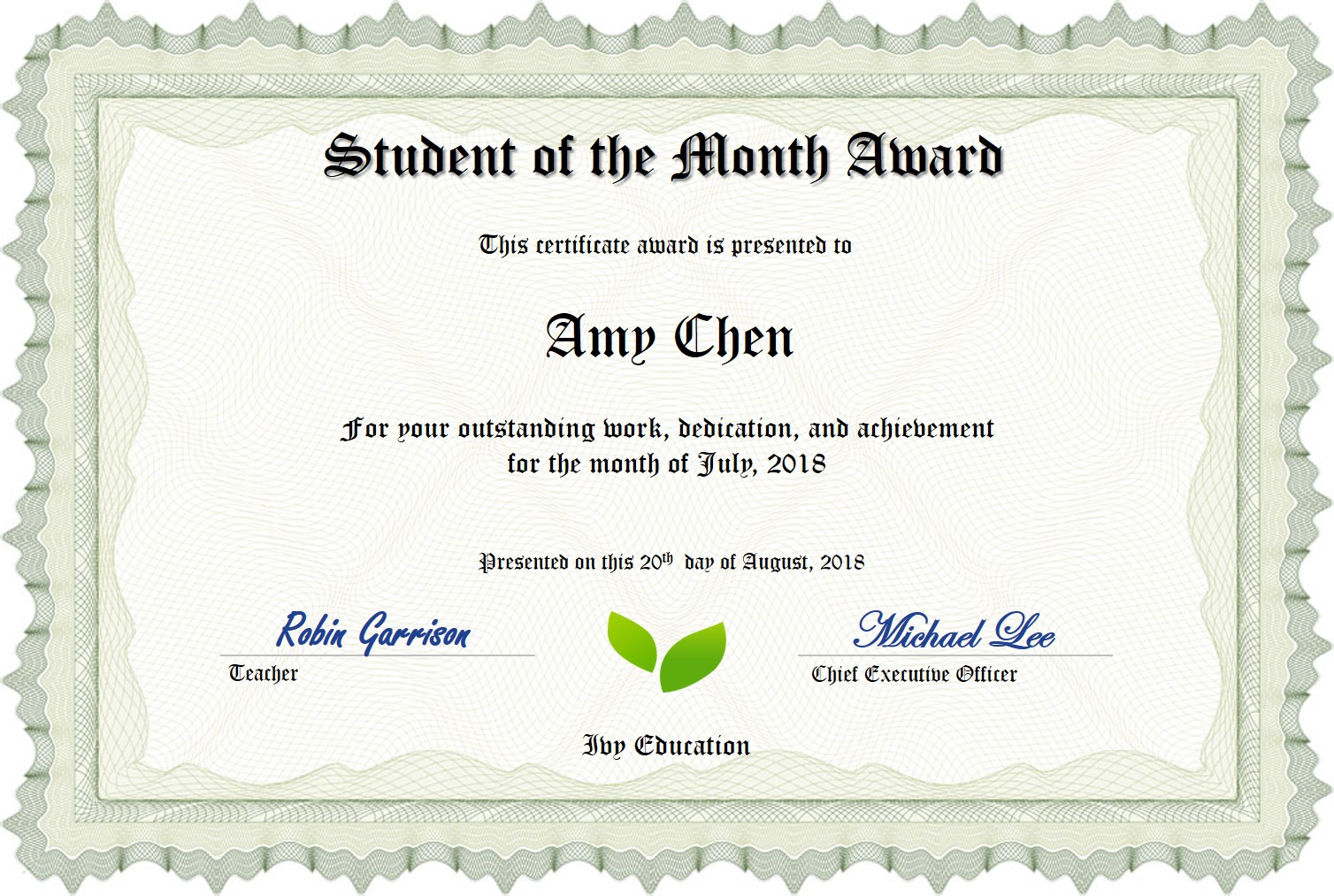 ---
Teacher Jeanne :
I would like to nominate Angela Jin for student of the month. She is always on time, always has her homework done, has a wonderful command of the English language, a great vocabulary, and we have engaging conversations every class period. I really enjoy teaching her. We are reading through the entire series of Laura Ingalls Wilder books together, and she's doing a wonderful job.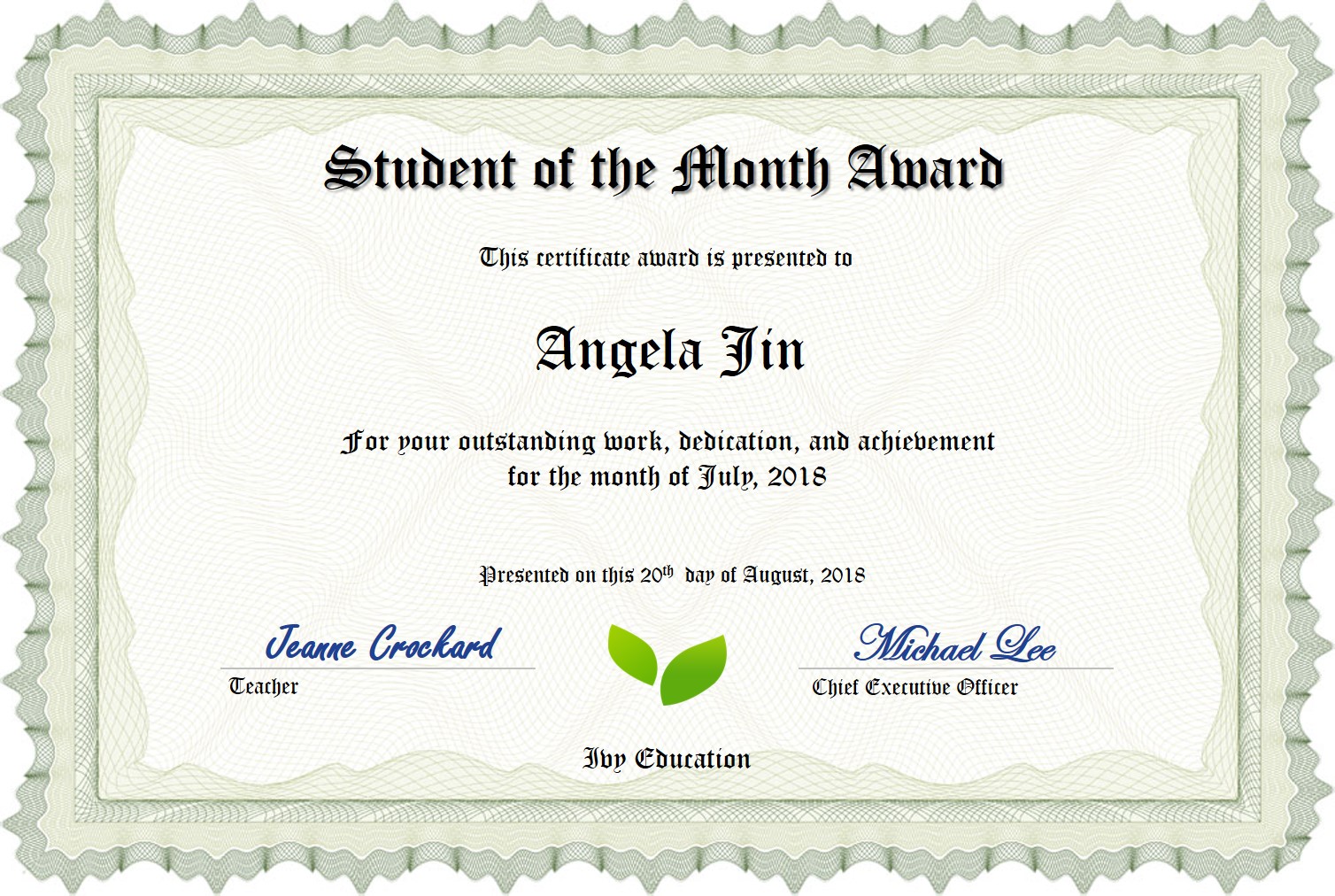 ---
Teacher Amanda :
I would like to nominate Anita Liu. She is a bright, wonderful, hardworking student who is excited to learn and develop her English. Anita is always excited to share with me about things she has been doing. She tackles new challenges with a positive attitude. Anita is always prepared for class and is always on time. She is consistently progressing and learning more English everyday. Anita always tries her best and sounds out challenging words. I have enjoyed watching her learn new things and how proud she is when does well. It is a pleasure to have the opportunity to work with Anita.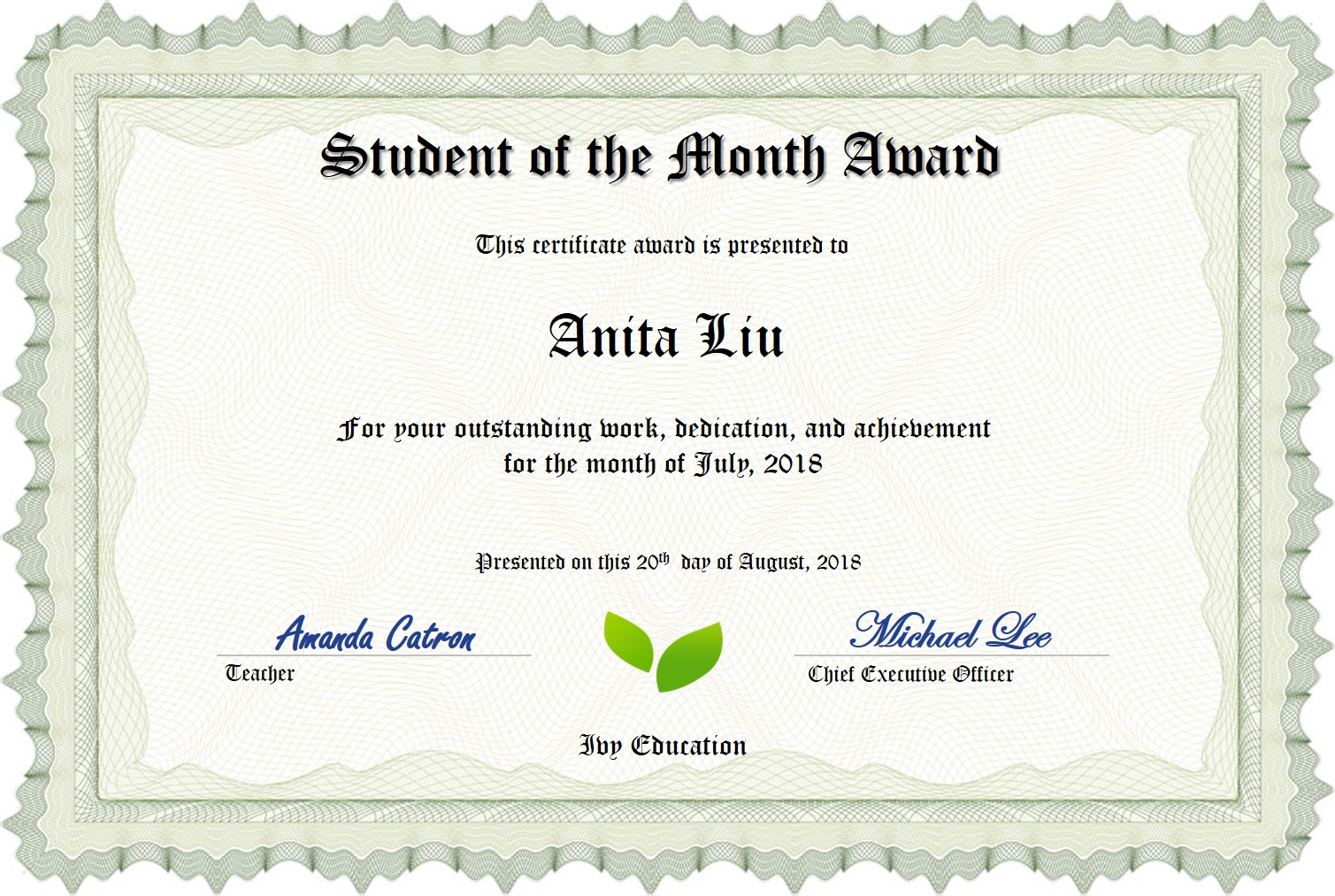 ---
Teacher Peggy :
I would like to nomiate Erica Wang for student of the month. She has grown so much in her vocabulary and her comprehension. We started 5th grade Science and she is doing great!!! She is doing so well taking notes and our Magic Tree House Series she loves. Erica is a great student who I love teaching and look forward to each lesson with her.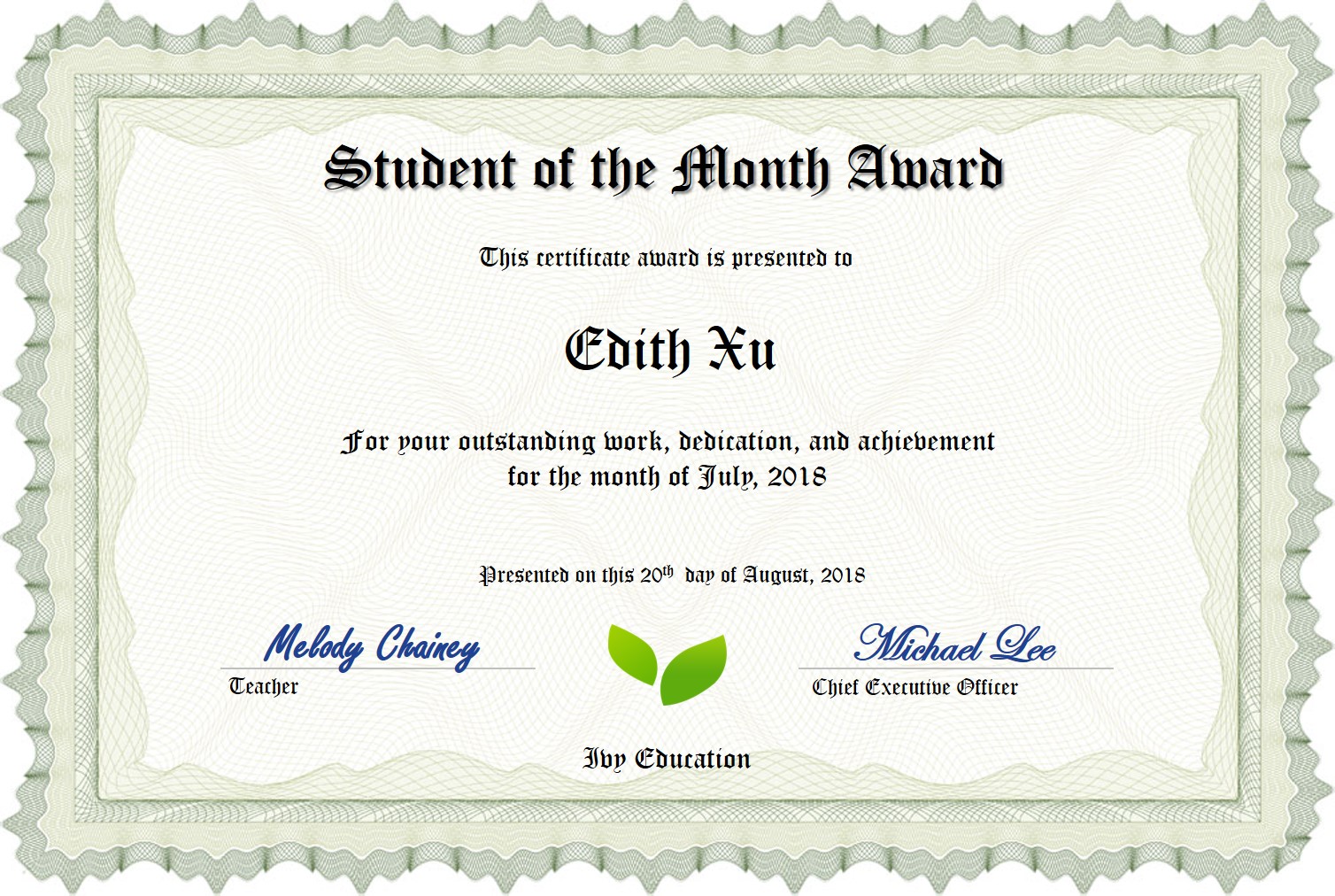 ---
Teacher Melody :
I would like to nominate Edith Xu. She is a very hard working student who gets all of her work done and can provide very interesting discussions on her studies. She is bright, inteligent, and is always smiling and ready to work. In the past year, she has excelled in her studies and is such a joy to not only teach but to talk with and share ideas with.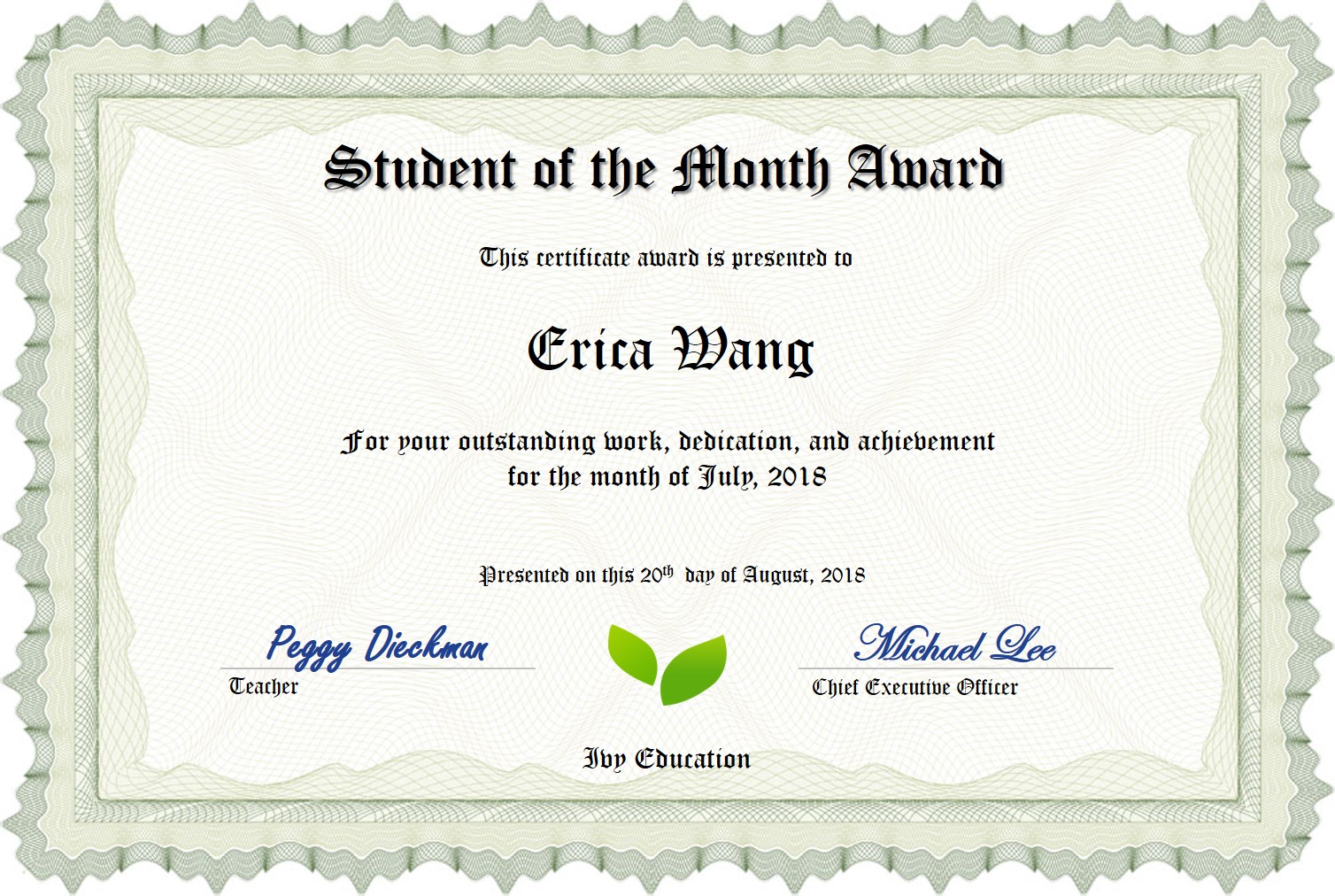 ---
Teacher Sandra :
I would like to nominate Eugene Liu. Although he is a relatively new student, he has shown superior commitment and application in doing a research project on an event of contemporary concern and using the results of his research effectively to support his findings. Eugene comes to class engaged and ready to work and takes genuine pleasure in discussing the issues we explore. He is a bright and stimulating student.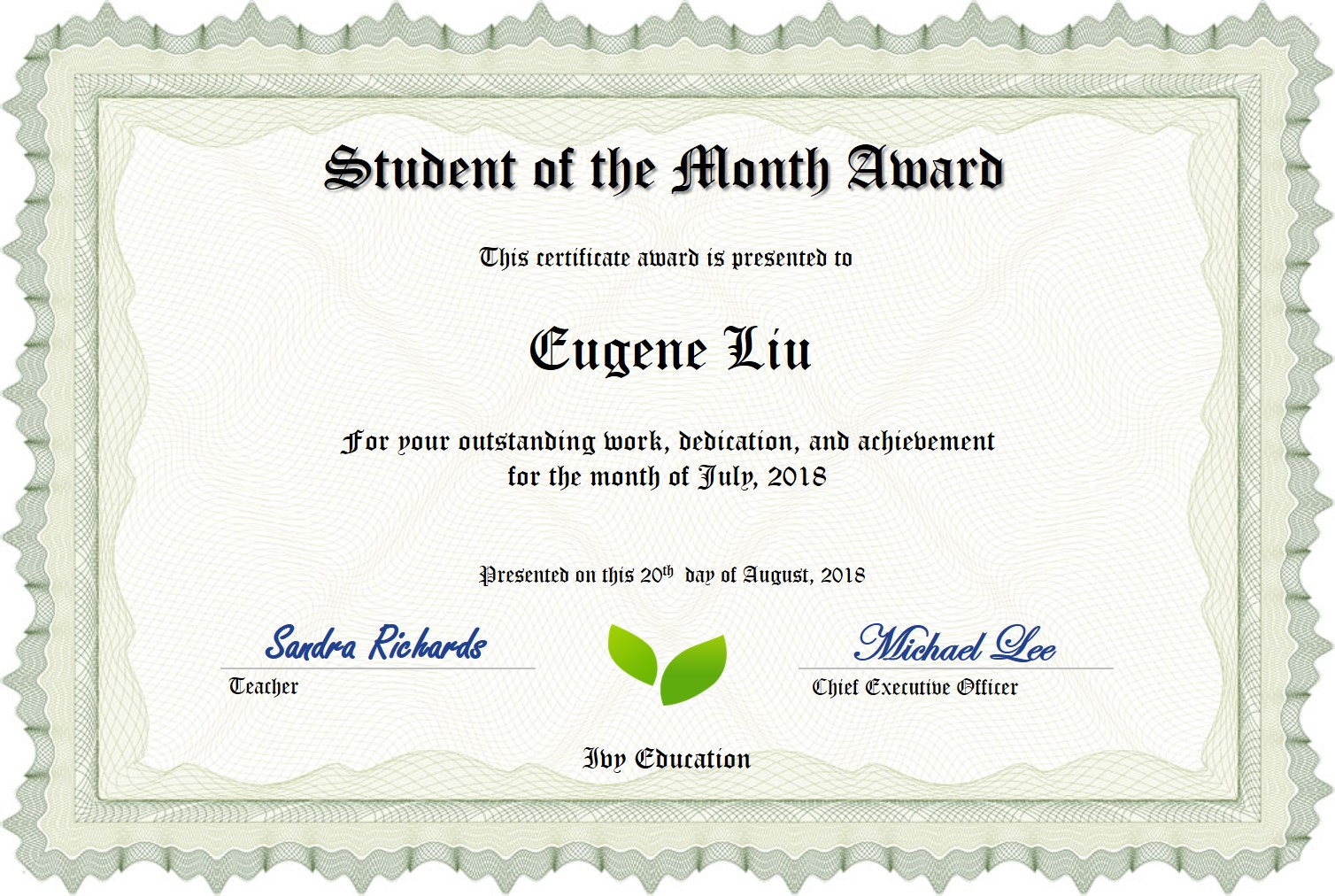 ---
Teacher Debra :
My nomination for student of the month is hard because all of my students are great and doing well. I enjoy them all equally. I am going to nominate Johnny Gong because he was able to finish all his review tests with flying colors. He has an excellent memory and focused attitude. He deserves to be my student of the month as his reward for doing so well.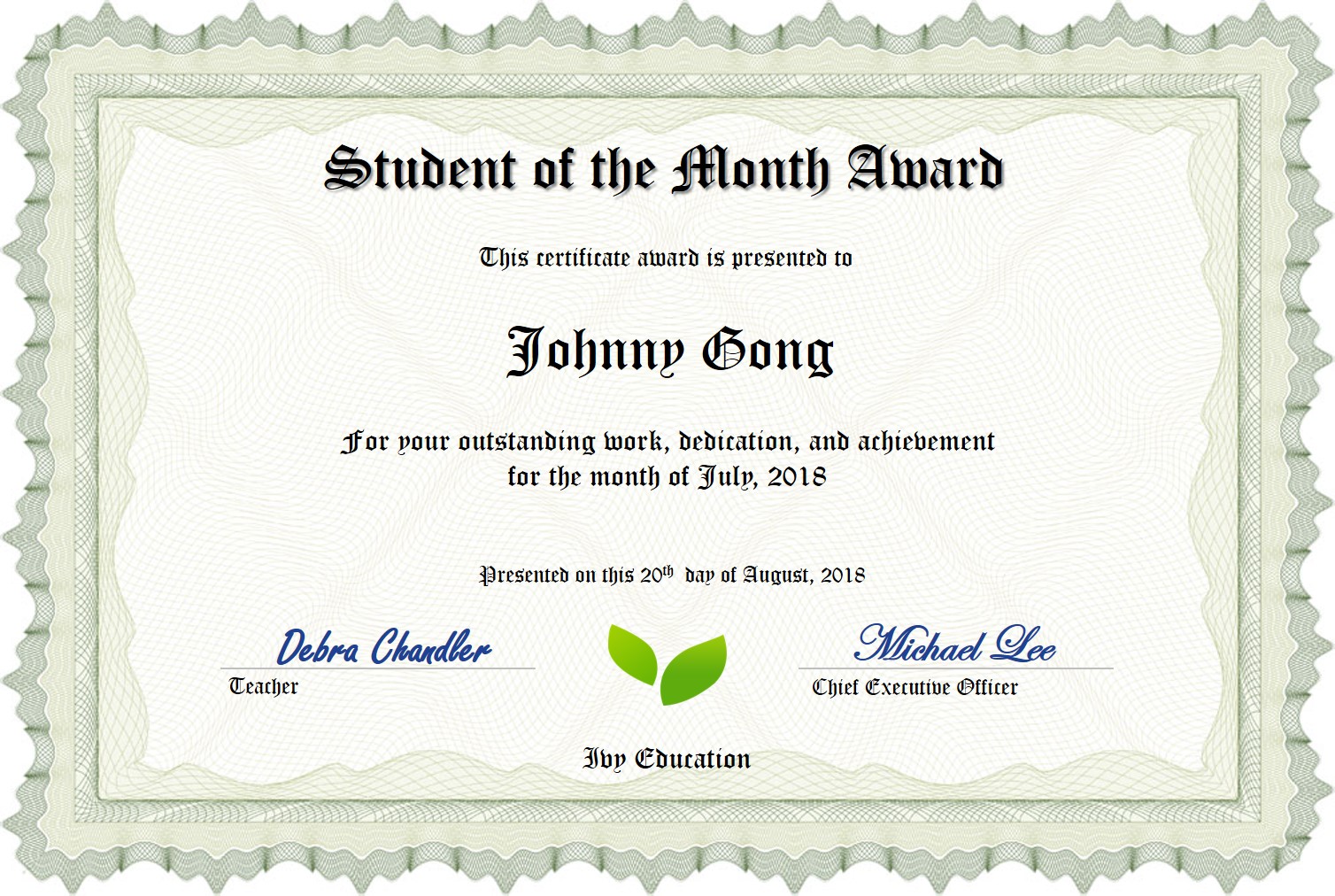 ---
Teacher Janna :
I would like to nominate Joy Zhou for student of the month. Her English speaking and reading skills are excellent. She is an amazing scientist who cheerfully completes research assignments to supplement our science reading. Joy comes to class armed with her opinions and backs them up with evidence. I always look forward to our classes and discussions.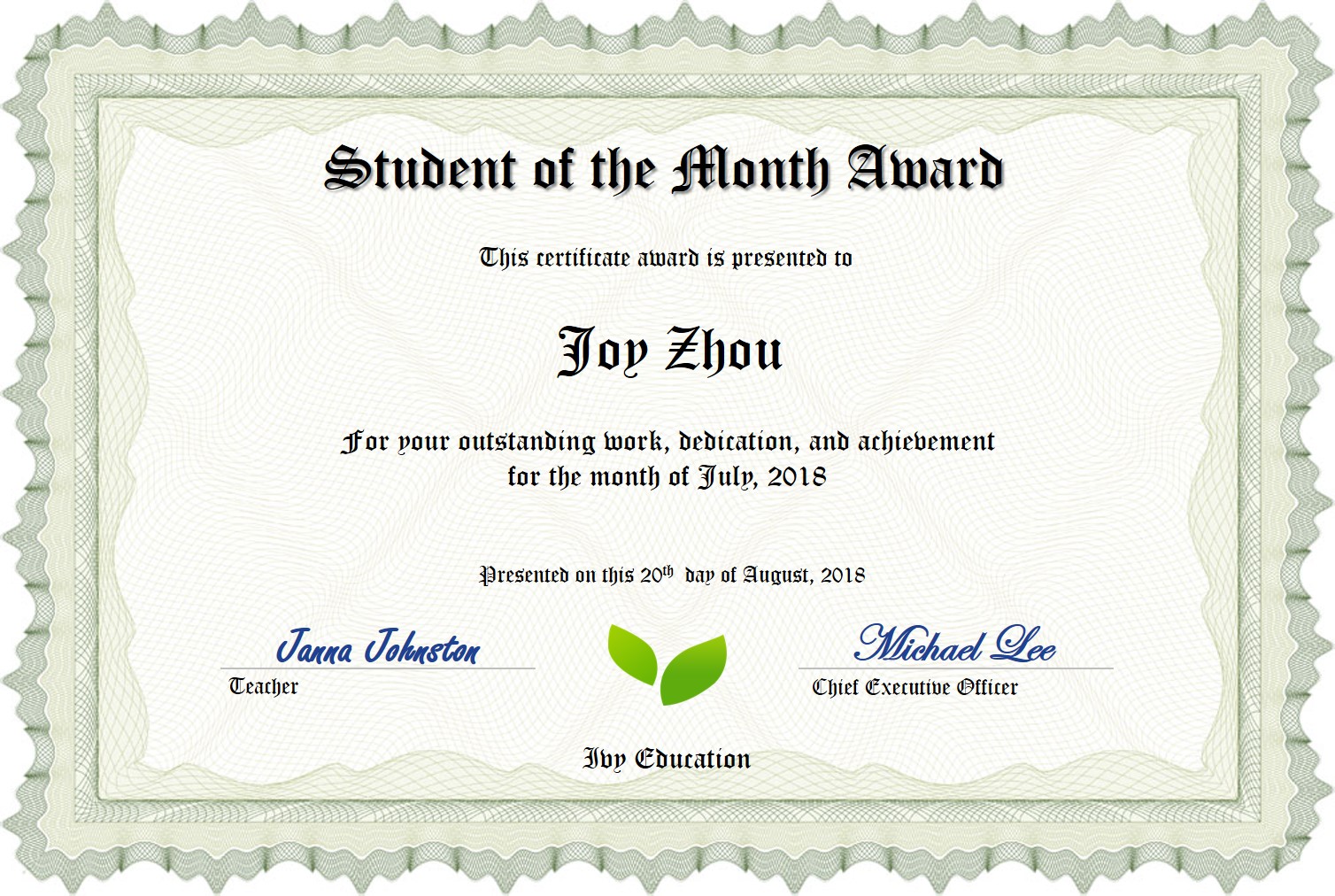 ---
Teacher Laura:
Rayna Wang is my choice for student of the month. She brings enthusiasm and good energy to class. She shows up ready to learn, and is very hard working. Rayna has been successfully building her undertsanding and confidence in using the English language. If I correct her pronunciation or grammer, Rayna takes the correction into consideration and makes succesful adjustments very quickly. She has a pleasant manner about her, but is also very intelligent. We've been working in a few different curriculums such as Social Studies, and USA Day-To-Day Discussions. Throughout all her classes, Rayna does a great job of combining her vocabulary from one topic into her statements about other scenarios, as well. Great work, Rayna!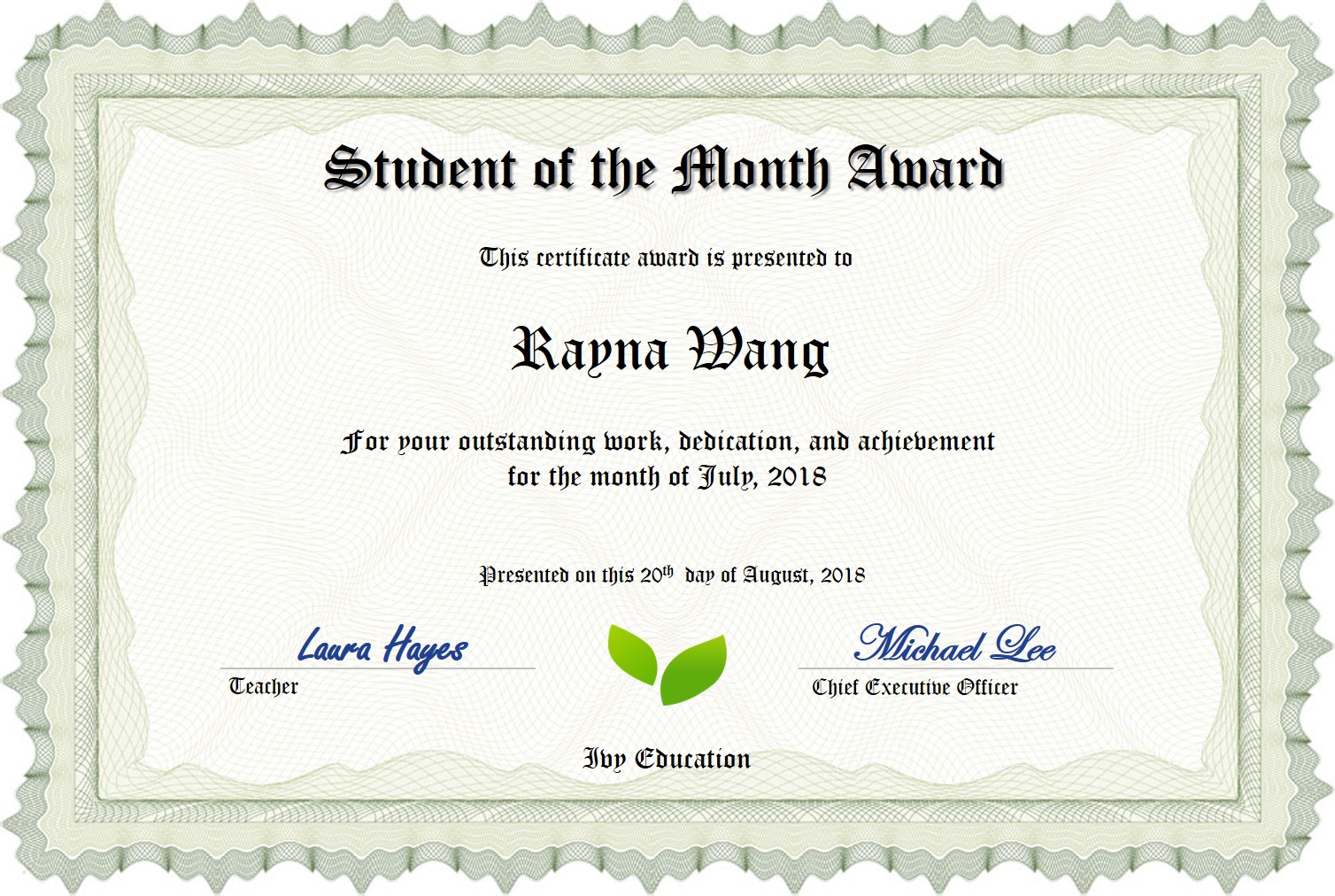 ---
Teacher Holly:
I'd like to nominate Sophia Dong for student of the month. Sophia has excellent attendance and consistently gives 100% effort during her lessons. She works hard at learning new vocabulary and her conversational English skills have grown tremendously. Sophia also routinely contributes to curriculum conversations and shares her knowledge of history with me. Sophia is progressing nicely through the History of the World Curriculum and this is no doubt due to her hard work and dedication.