Congratulations to Alice Zhong、Angel Xu、Emily Xi、 Fred Zhu、Hannah Wu、Lawrence Li、Leo Xi、Mandy Wei Ivy Education's Students of the Month!
---
Teacher Sylvia
:
I would like to nominate Alice Zhong. Every class she is prepared and so eager to learn. She has learned to synthesize new information as she learns and can clearly explain it. She greets me each week with a beautiful smile. She is a joy to have as a student.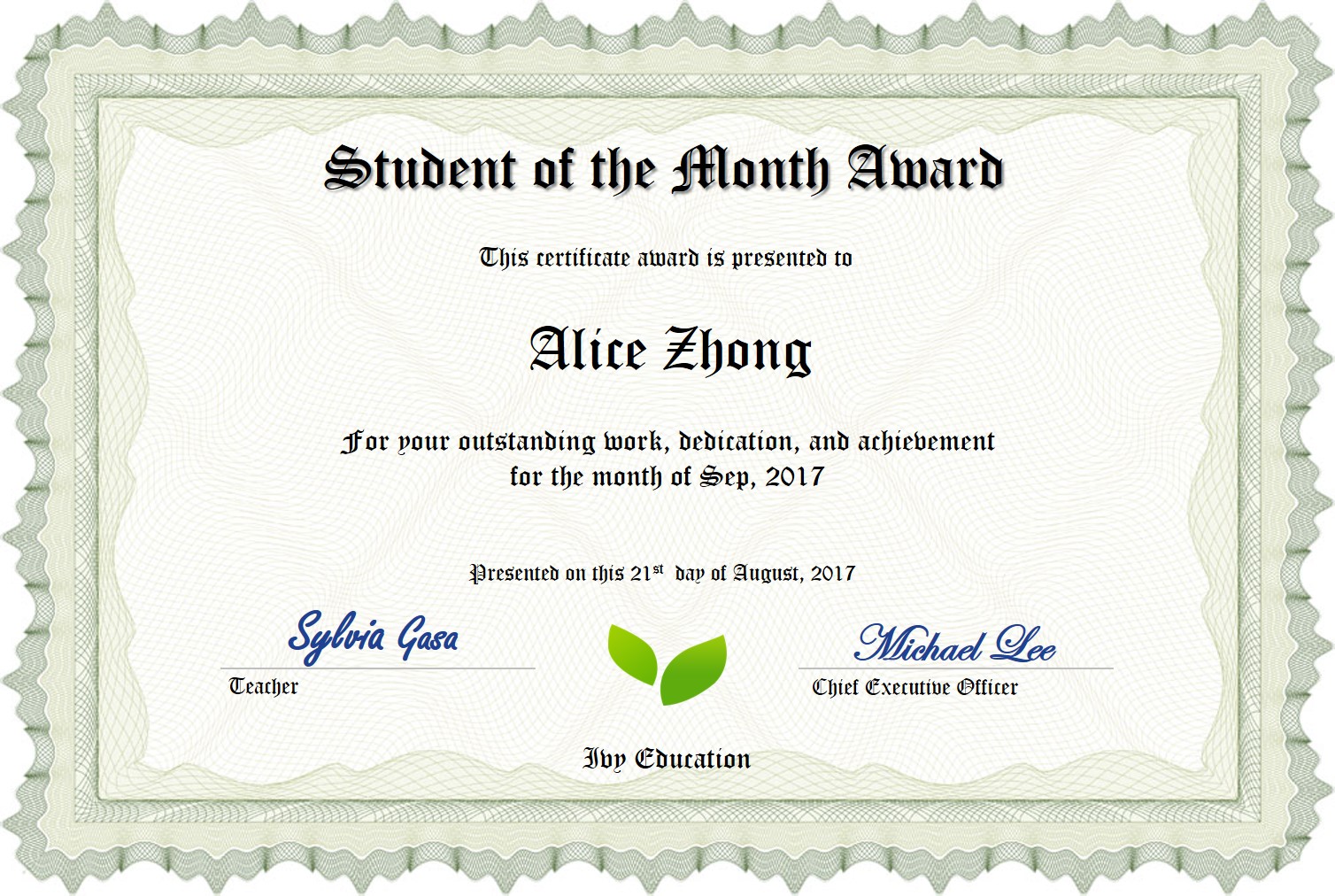 ---
Teacher Sandra:

I would like to nominate Angel Xu for student of the month. She is always very prompt with her assignments and comes to lessons in cheerful spirit and eager to learn. She wants very much to improve her English writing and has a talent for generating enthusiasm for whatever subject she chooses. Her superior level of engagement makes her a joy to teach and she is working very hard to make great strides in her writing course. I couldn't ask for a better student.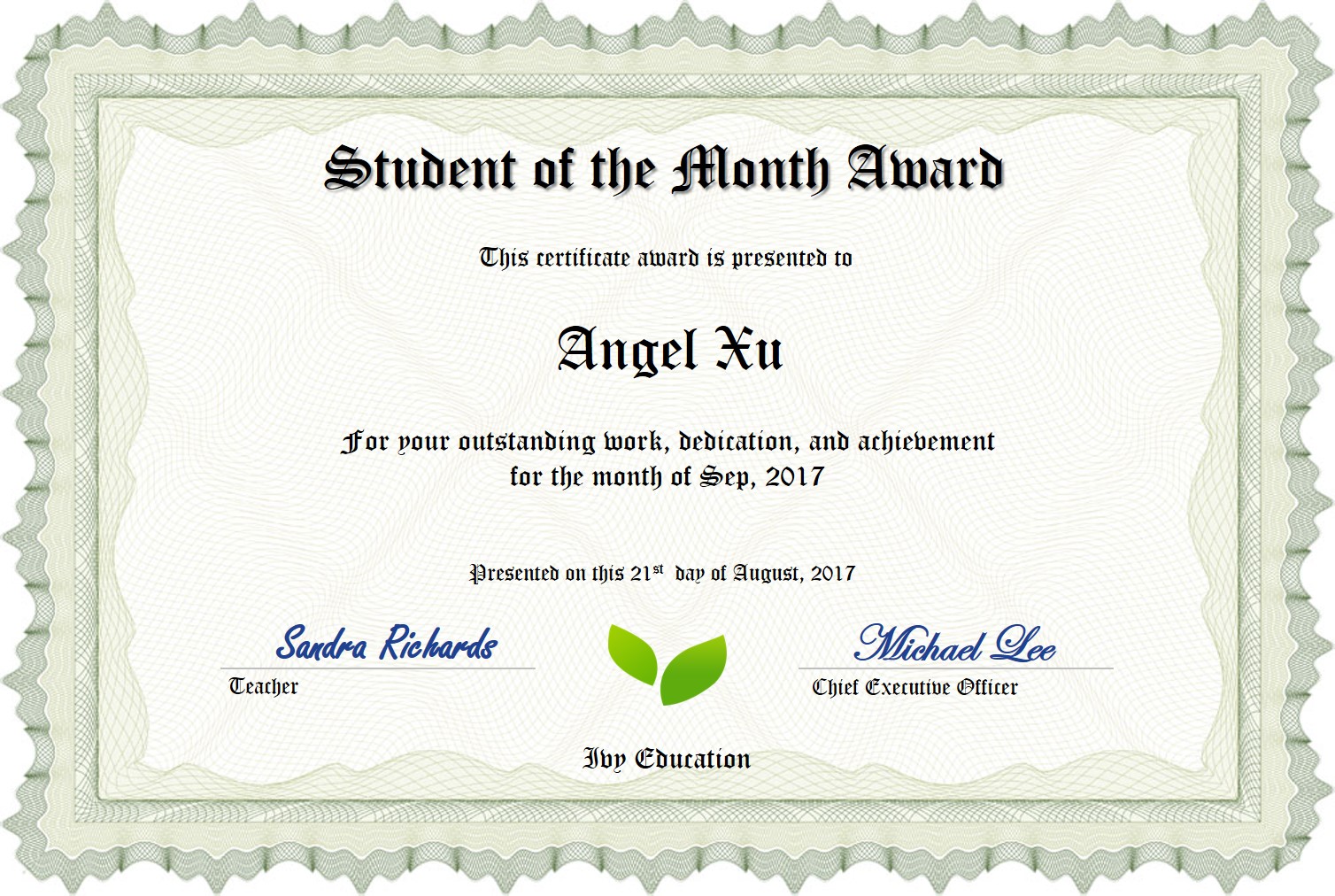 ---
Teacher Amanda:
I would like to nominate Emily Xi for Student of the Month. Emily is a very bright and hardworking student. I enjoy working with Emily and look forward to our lesson each week. She is always prepared for class, always on time, and is ready to learn. Emily always greets you with a smile and enjoys sharing her interests with me. I love hearing about her life. She tackles new lessons with a positive attitude and doesn't give up until she understands the lesson. Emily asks wonderful questions and gives insightful answers. It is my pleasure to have the opportunity to work with Emily.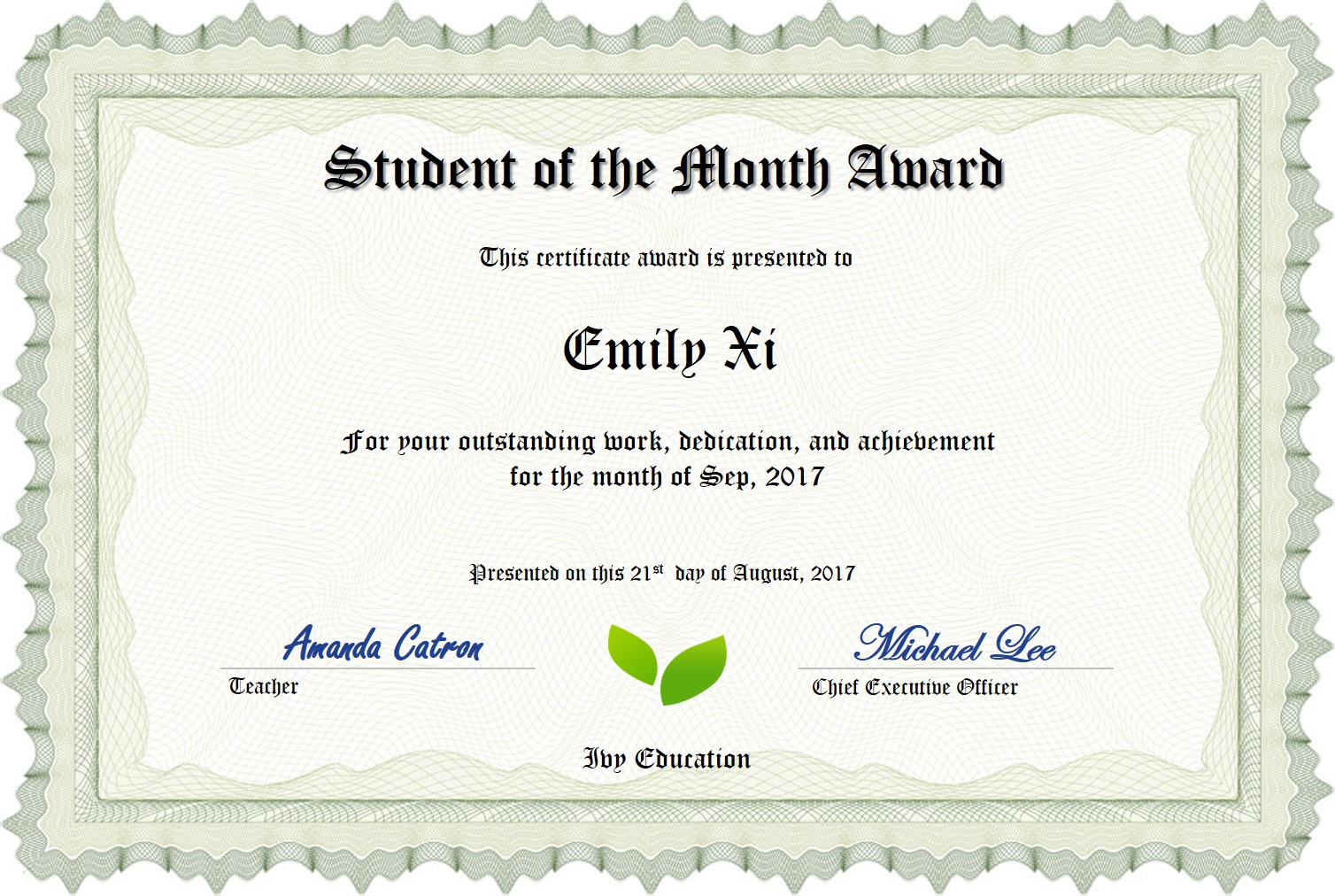 ---
Teacher Victoria:

I would like to nominate Fred Zhu for student of the month.Fred Zhu has a wonderful work ethic. Despite the late hour of his class, he is focused, prepared, and dedicated to his studies. Fred has a wonderful English vocabulary and is quite articulate. Fred's love of learning is apparent, and he is an excellent student. Fred is such a pleasure to have in class.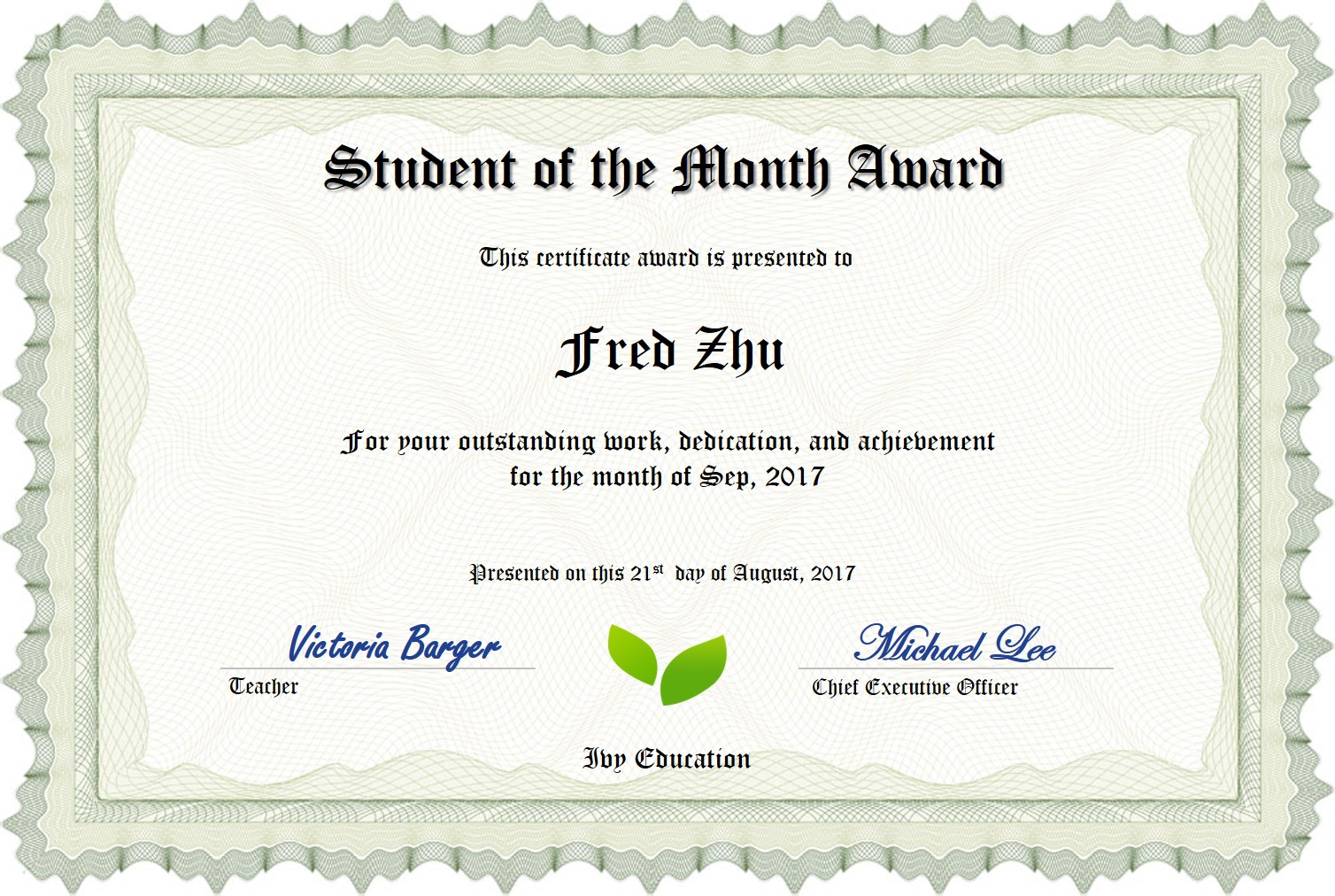 ---
Teacher Nancy:
I would like to nominate Hannah Wu for student of the month. The list of Hannah's positive qualities is long. Perhaps her strongest ability is that of simple academic curiosity. She wants to learn everything, and so she asks the kinds of questions that lead us into many interesting conversations. She has excellent reading comprehension and learns new vocabulary quickly in context. She converses fluently and writes well. Hannah really enjoys learning as you can see in her smile and laughter during class. I feel lucky to be her teacher.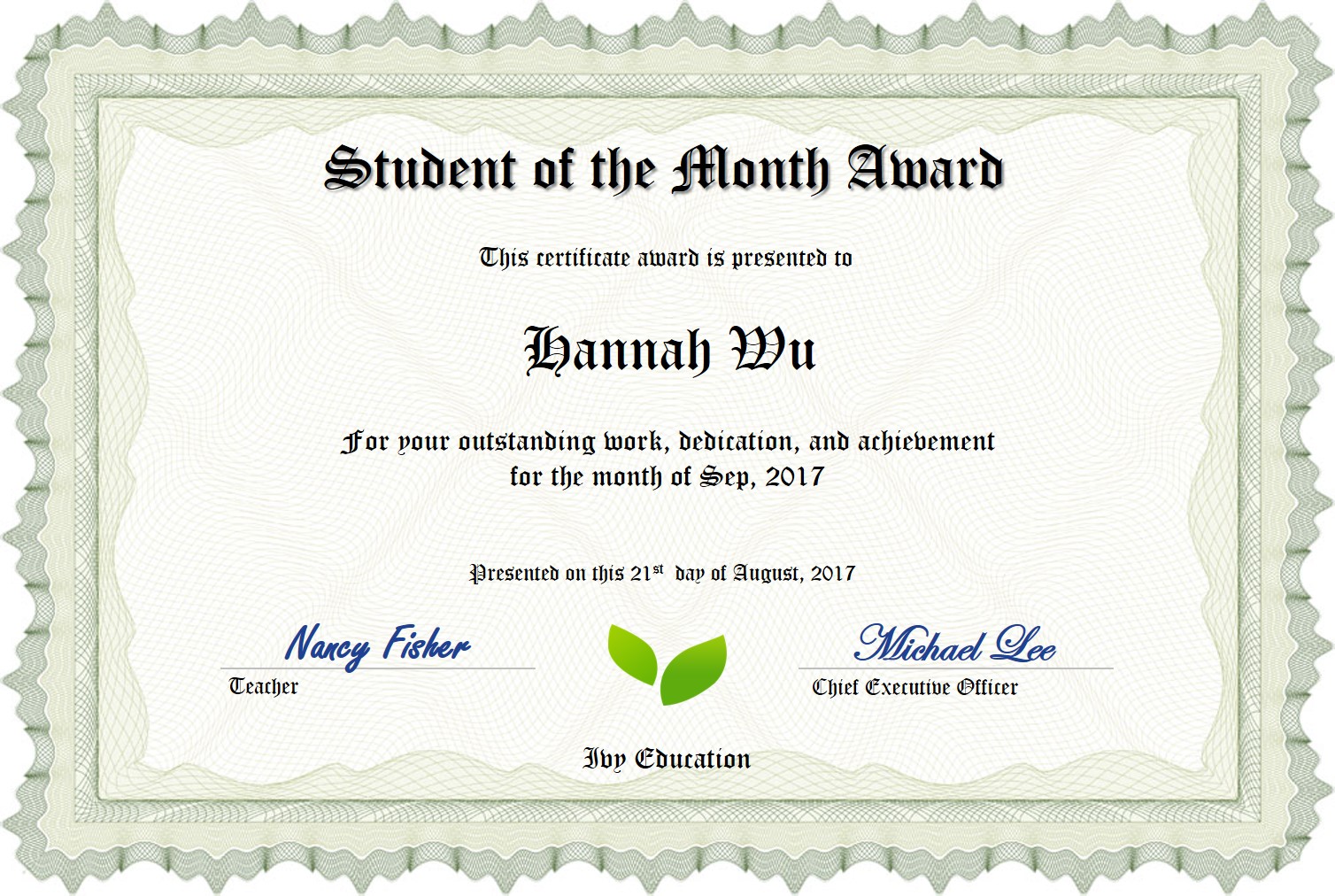 ---
Teacher Peggy:

I would like to nominate Lawrence Li for student of the month he is an amazing student who is always excited about our class and willing to try his best even though English is challenging for him. He is a wonderful listener and always will participate willingly by asking questions and letting me know when he doesn't understand. He is not afraid to try new things and always eager to share about his day. He spent the summer in a Canadian summer camp and was developing English and having fun. Lawrence is a happy student and so much fun to teach I look forward to our classes and his big smile every week.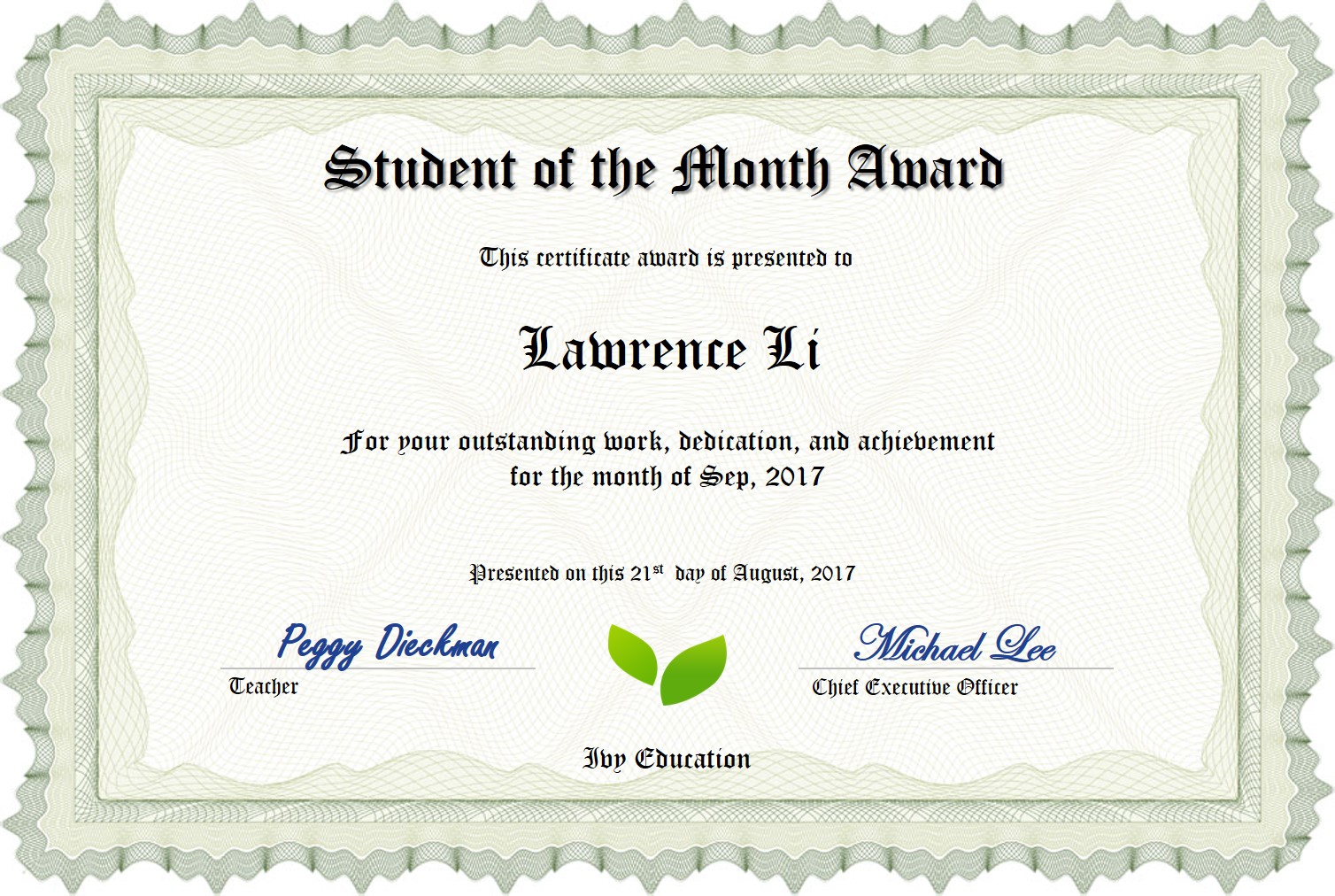 ---
Teacher Megan:
I would like to nominate Leo Xi for student of the month. Leo is a fun student to work with, because he is always excited for class and always very interested in what we are reading each class. He not only works hard to improve in his reading each class, but he also asks excellent questions every class related to the material. Sometimes he asks questions that I don't know the answer to, so we do the research together to come up with the answers to his questions. I look forward to working with him every week because he is genuinely interested in what we are learning, which makes our time together fun for both of us!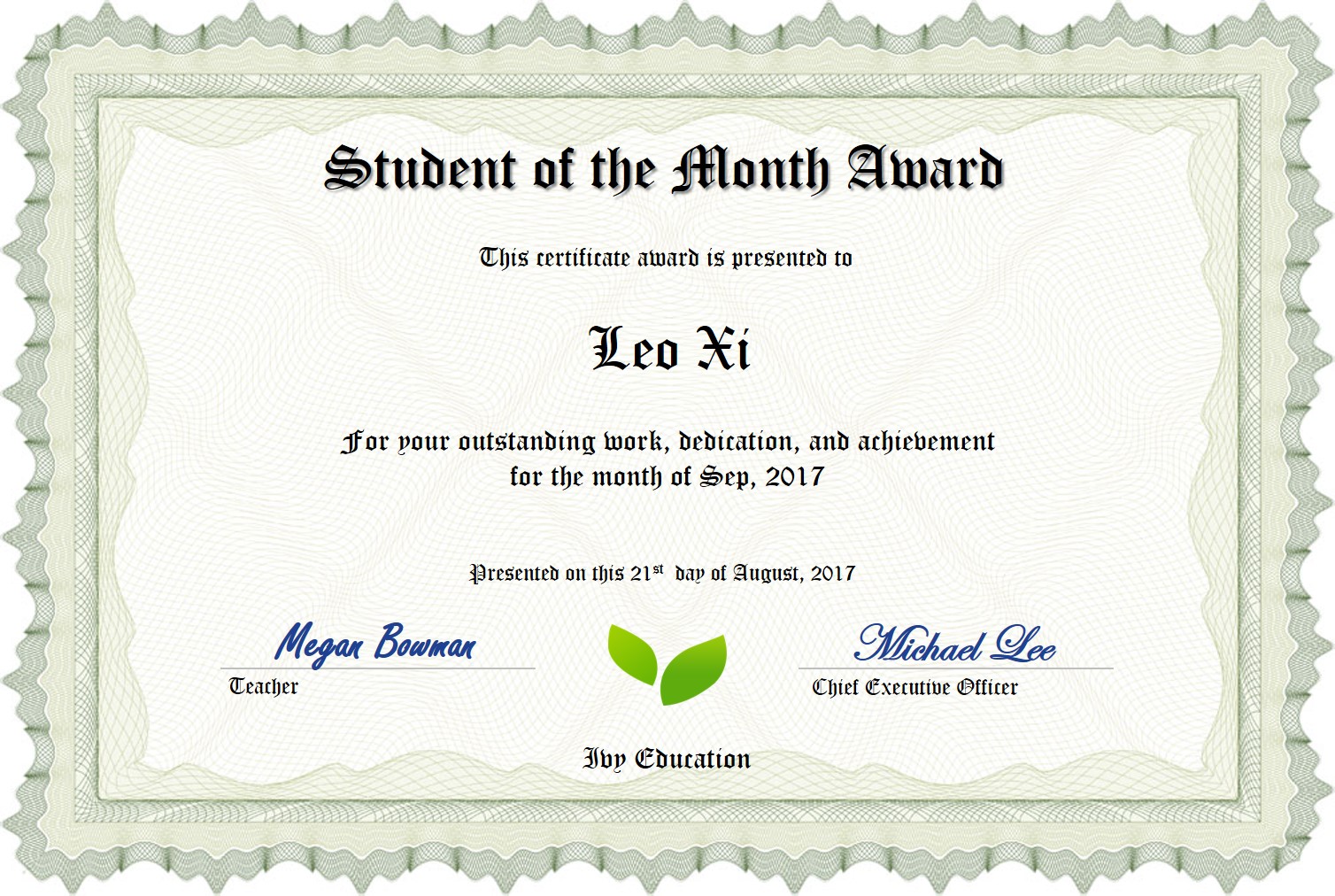 ---
Teacher Robin:
I would like to nominate Mandy Wei for student of the month. Mandy has been with me for a short time, but has shown much improvement in her English lessons and her reading. She also is conversing wirh me more. Mandy comes to class excited to learn and talk about her week. This makes class a joy to be in.