Congratulations to Jenny Wu, Alex Xi, Joyce Xu, Jason Huang, Annalisa Yang,Cindy Fan, Steve Tong. Ivy Education's Student of the Month!
---
Teacher Robin:

I would like to nominate Jenny Wu for the student of the month. Jenny always comes to class prepared. She presents a power point presentation of what she has done during her week at school or on a class project she is working on.She has excelled in my class with history, english, and writing. Jenny will read the chapters and then discuss with me at length what she has read and asks questions if she doesn't understand something.Jenny has written many paragraphs, sentences, and stories for homework and does excellent work. She is interested in what she reads and studies and it shows in her classwork. It is always a pleasure to teach her.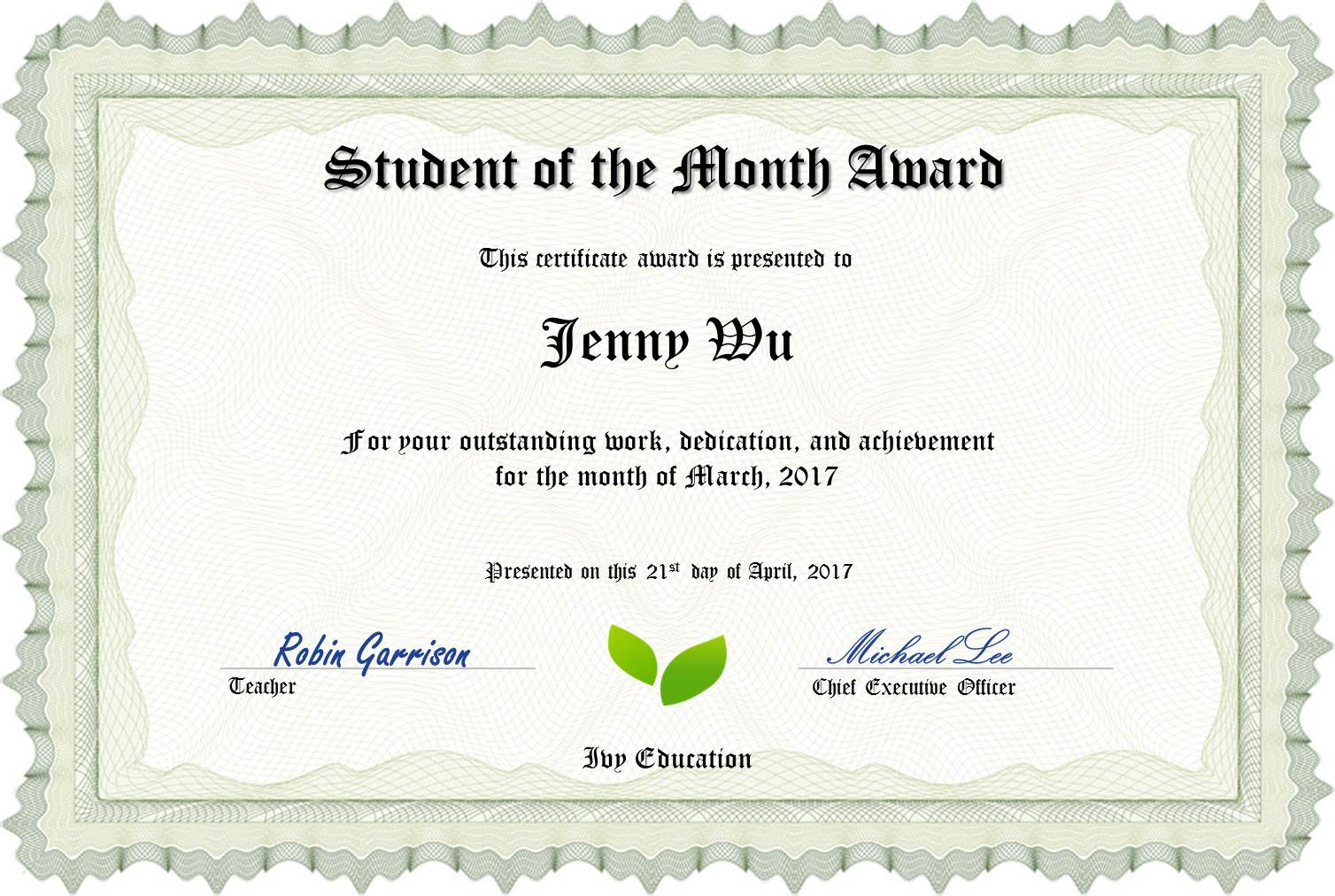 ---
Teacher Melody:


I would like to nominate Steve Tong. He is always on time for sessions, he focused on the reading and asks questions on what words mean so he gets the full meaning of what he is reading. Steve loves to read and reads very well, but admits he does not always understand the words he reads. He is a joy to teach and discuss the meanings of each word he reads, making the reading time enjoyable and informative. He works between our sessions to provide sentences using words he was not sure of to show he understands the words and how to use them.


---
Teacher Peggy:

I would like to nominate Cindy Fan for student of the month. She has become a wonderful little reader who loves reading and works hard to improve her English and pronunciation of words. Cindy began in Reading Eggs and now has moved on to a A+ Plus English working in the first grade level. She still continues to read a book from Reading Eggs every lesson and also reads stories in English from her own Library collection to me each lesson. We have conversations throughout the lesson in English and she is confident in her ability to answer questions and to ask questions. I enjoy our lessons and listening to her read each week.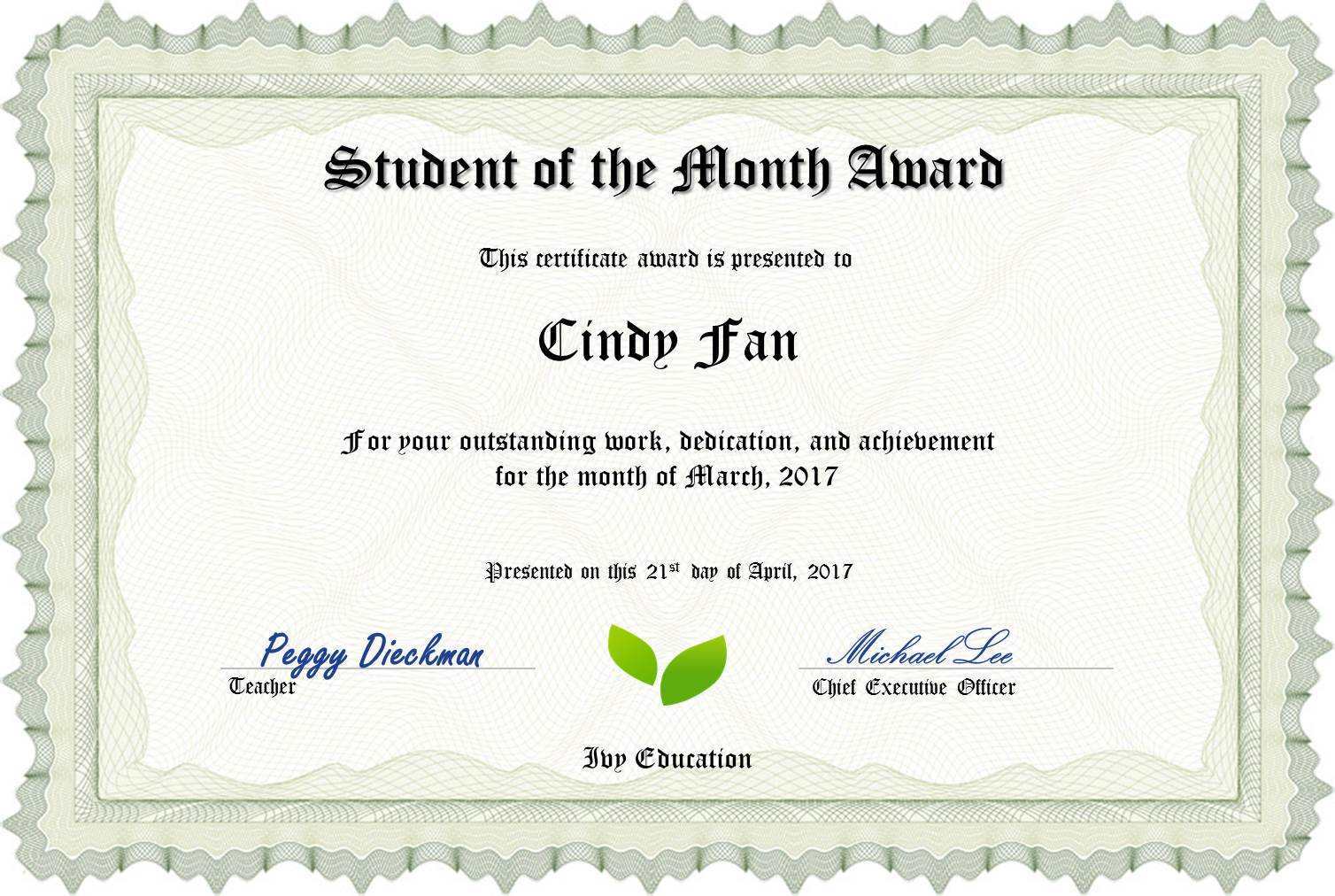 ---
Teacher Sandra:

I would like to nominate Joyce Xu for student of the month. Despite a vey heavy schedule, Joyce manages to do the difficult 19th-century reading of Charles Dickens and produce literature essays that are relevant and coherent. She always comes to class with a "can-do" positive attitude and takes any setbacks in her stride. She learned how to write literary analyses essays vey quickly, and provides plenty of support for her ideas in her body paragraphs. She is making excellent in the course and I believe she will continue to do so.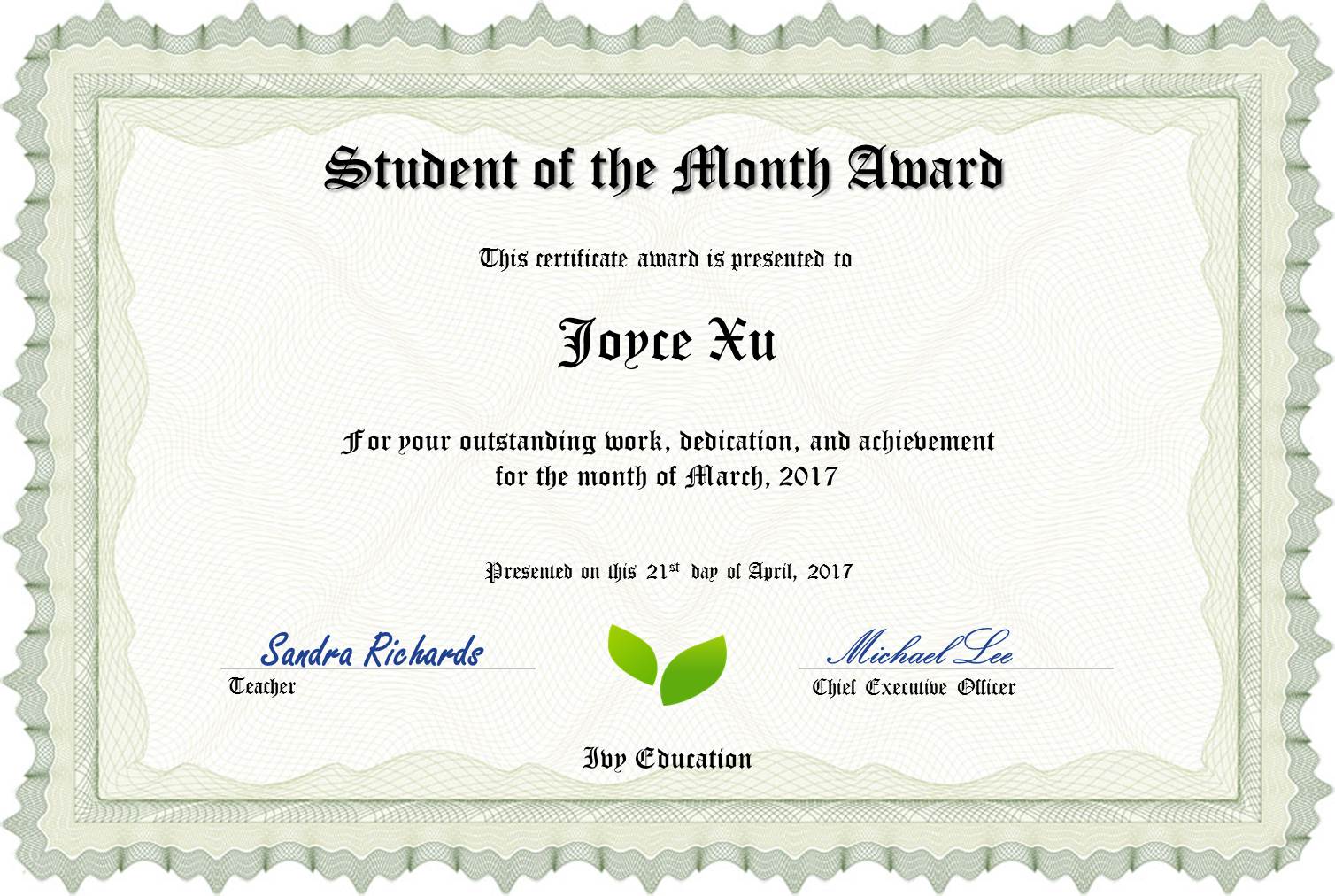 ---
Teacher Amanda:

I would like to nominate Anna Lisa Yang. She is a sweet, hardworking student who is excited to learn and develop her English. Anna Lisa is always prepared for class and takes notes throughout her lessons. She is consistently progressing and gaining more confidence with her English. She tackles new challenges with a positive attitude and doesn't give up. Anna Lisa always tries her best. If she does not know a word she takes her time to sound it out.
I have enjoyed watching her discover new things during our science and social studies classes and become a stronger student. It is pleasure to have the opportunity to work with Anna Lisa.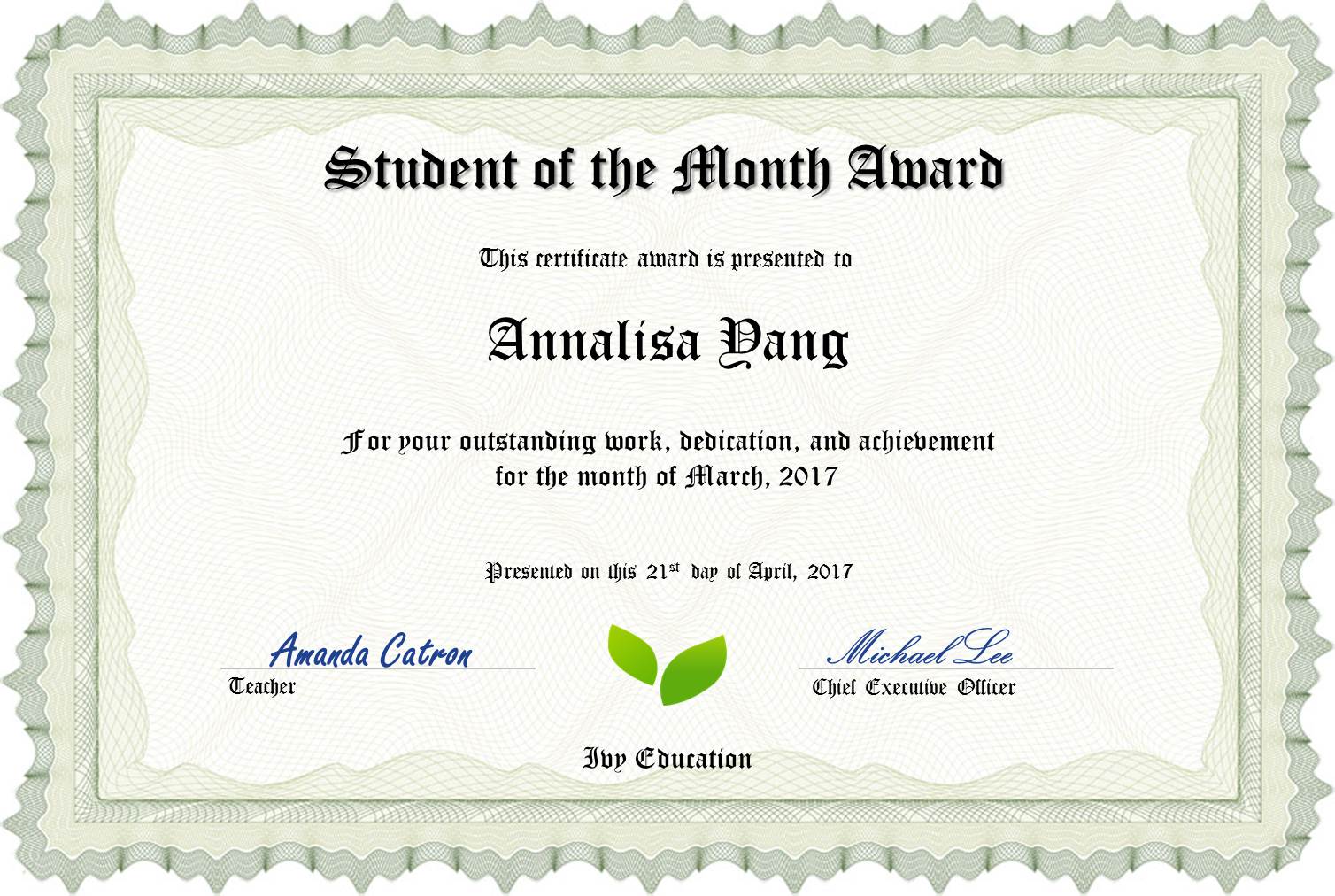 ---
Teacher Tracey:

I would like to nominate Jason Huang for student of the month. I believe Jason deserves this award because of his continued hard work in science and English. He consistently starts each lesson ready , prepared and with a positive attitude. Jason enjoys learning new concepts in science and has proven himself to be a quick learner. He is advancing by leaps and bounds in English learning many new vocabulary words and self correcting while reading. Jason follows directions well and pays attention during class. I enjoy teaching Jason and look forward to watching him excel.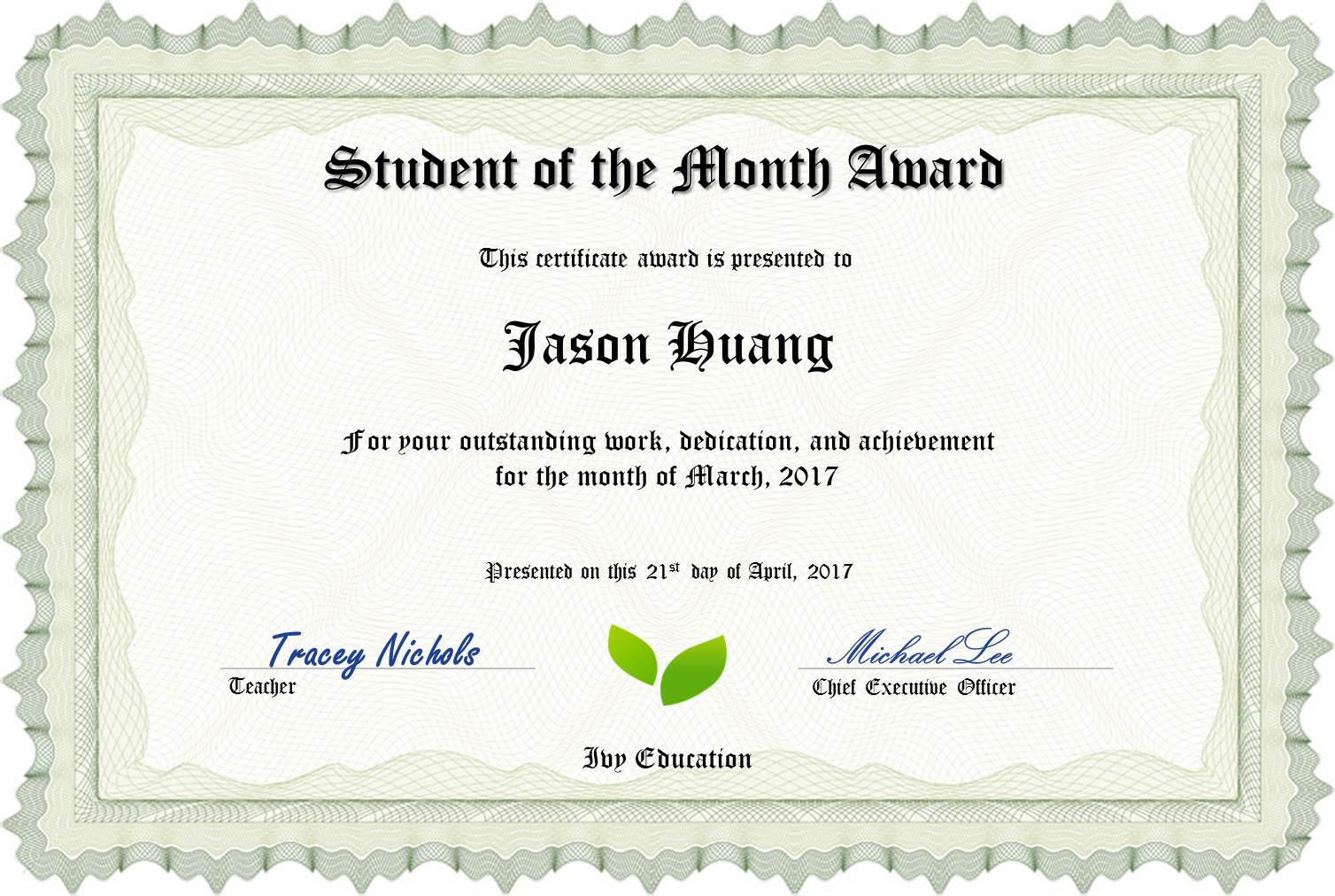 ---
Teacher Nancy:

I would like to nominate Alex Xi for student of the month. Alex is a very dependable student. He is punctual and ready to show his homework at the beginning of class. Alex has a wonderfully positive attitude, and he works enthusiastically in class. He is quick to ask when new vocabulary causes problems in reading comprehension. Alex analyzes scientific concepts well and draws logical conclusions. He learns new vocabulary quickly and can explain complicated phenomena using that new vocabulary. Alex is motivated, funny, and always willing to share knowledge with me. He is an outstanding student.