Congratulations to Angela Xu、Emily Cai、 Joyce Huang、Jared Hu、Johnson Su、Cathering Yang、Jerry Yang and Miya Xu Ivy Education's Student of the Month!
---
Teacher Melody:

For Student of the month I would like to nominate Catherine Yang. Catherine Yang is a joy to teach, she is very bright and easy to teach. She asks questions when needed and we have many wonderful discussions during our time together. Catherine always has a smile. When she does not understand something, she does not have any problem with asking for clarification. Her understanding and word usage in Essays have improved greatly since we started working together. She is relaxed and easy to communicate with. I look forward to each and every class with her.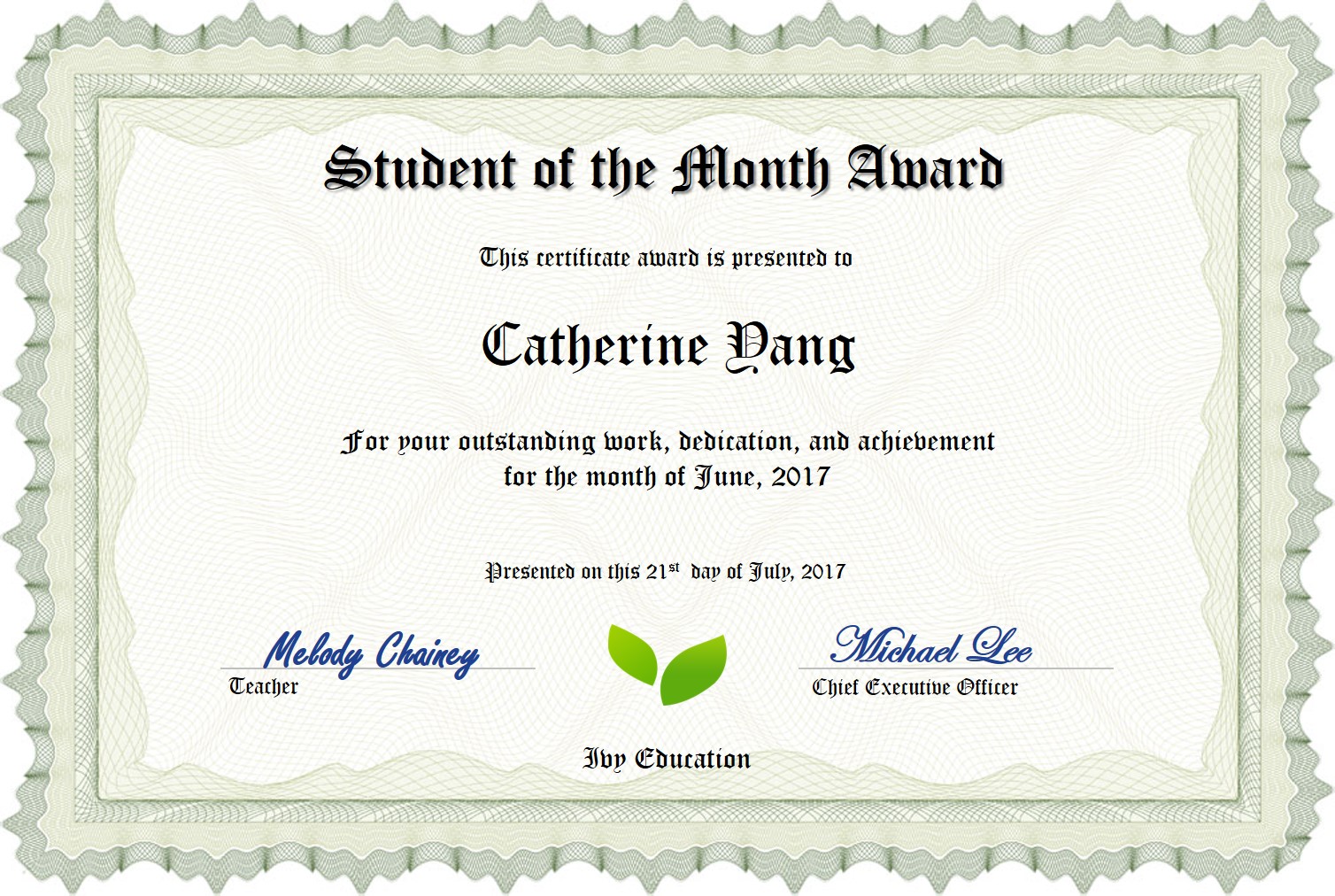 ---
Teacher Amanda:
I would like to nominate Jerry Zhang. He is a sweet, hardworking student who is excited to learn and develop his English. Jerry is always prepared for class and is always on time. He is consistently progressing and is eager to learn. Jerry does a wonderful job answering questions and going back to the text to find his answers. He tackles new challenges with a positive attitude and does not give up. Jerry always tries his best.
I have enjoyed watching him discover new things during our science class each week. It is pleasure to have the opportunity to work with Jerry.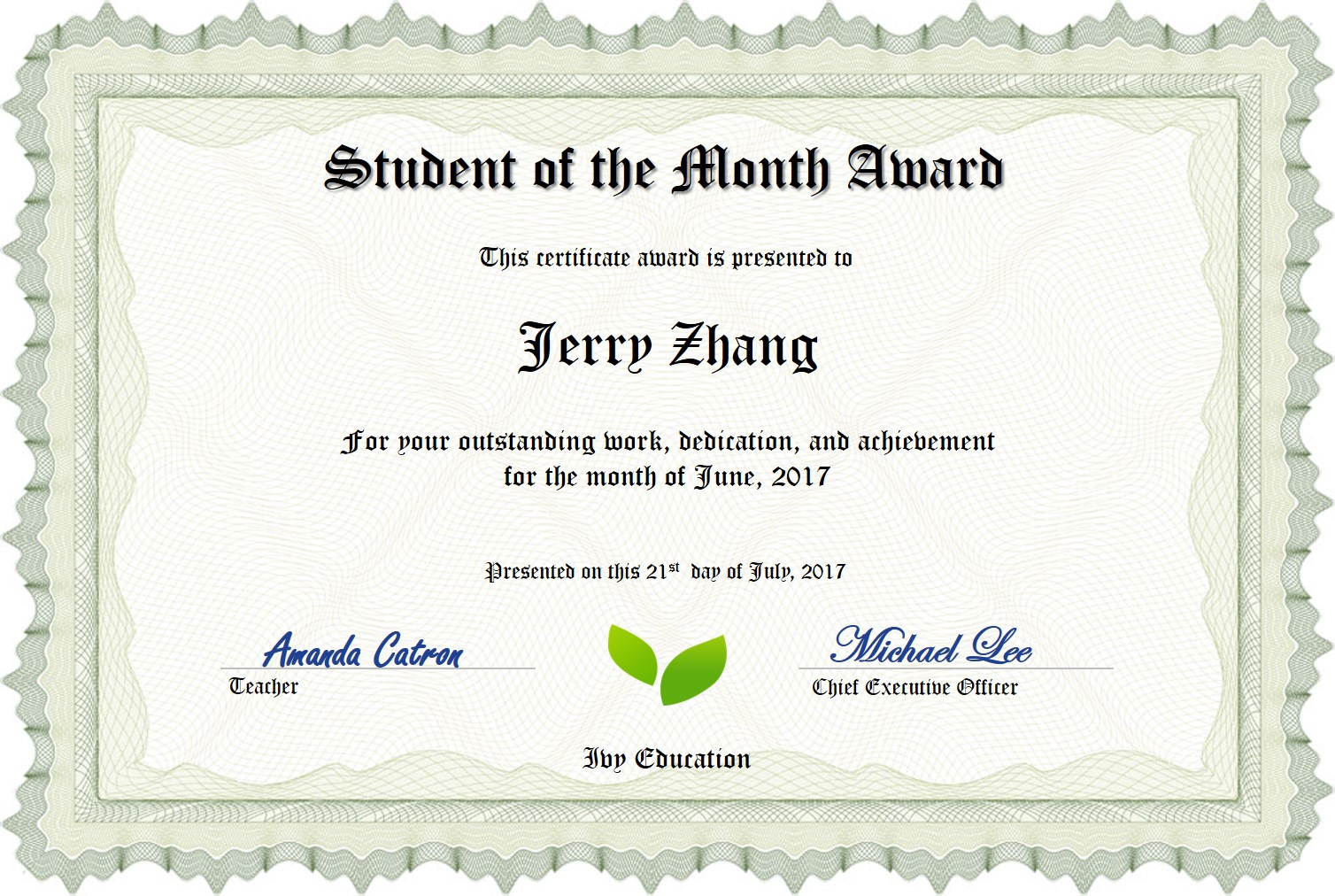 ---
Teacher Elizabeth:

I would like to nominate Miya Xu for student of the month. She is always ready to work and learn and is always full of smiles while doing so. She truly enjoys learning and is not afraid to ask questions when she does not understand something. Each week she has a song picked out for us to review and discuss in order to improve her English. Seeing her get so excited about learning English is a true joy for me each lesson.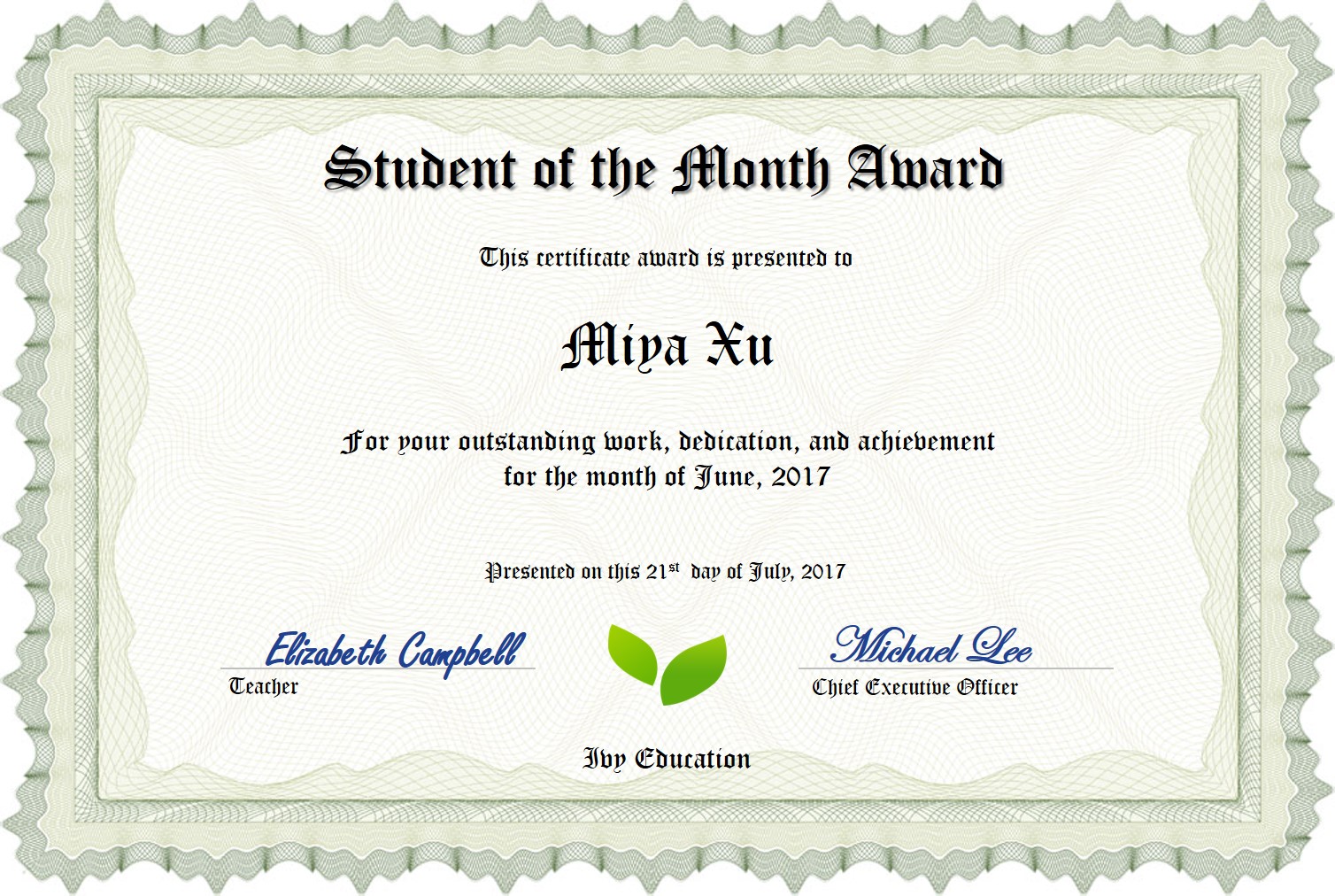 ---
Teacher Robin:

I would like to nominate Jared Hu for student of the month. Jared started with me a year ago to learn English. He started with the basic early English . He has improved greatly over the year. He continues to ask me what words mean and he writes them down. He also does well with his spelling and reading. Jared comes to class on time and is anxious to learn his English lessons, writing, reading and spelling. But most of all I like when Jared brings his pretty fluffy dog to class.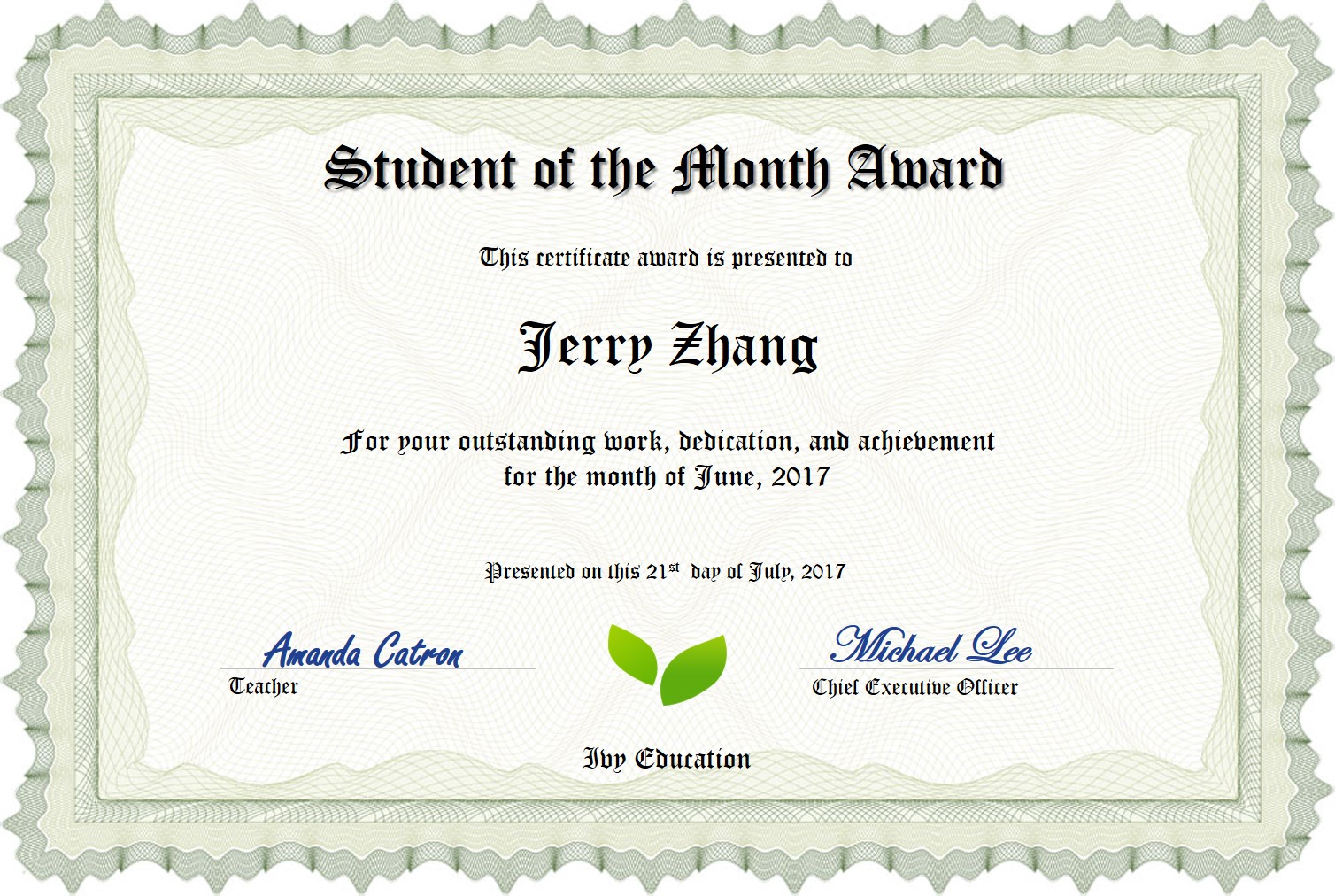 ---
Teacher Karen:

I would like to nominate Johnson Su. He has taken a summer book study with me. The book that he had selected was a little difficult for him and had many British references in it. In the beginning, he struggled a little. But as we continued with the study, Johnson demonstrated an excellent level of understanding of the book. He also became more comfortable talking to me and using his English words. He worked very hard and was always prepared for class. Johnson is a joy to work with.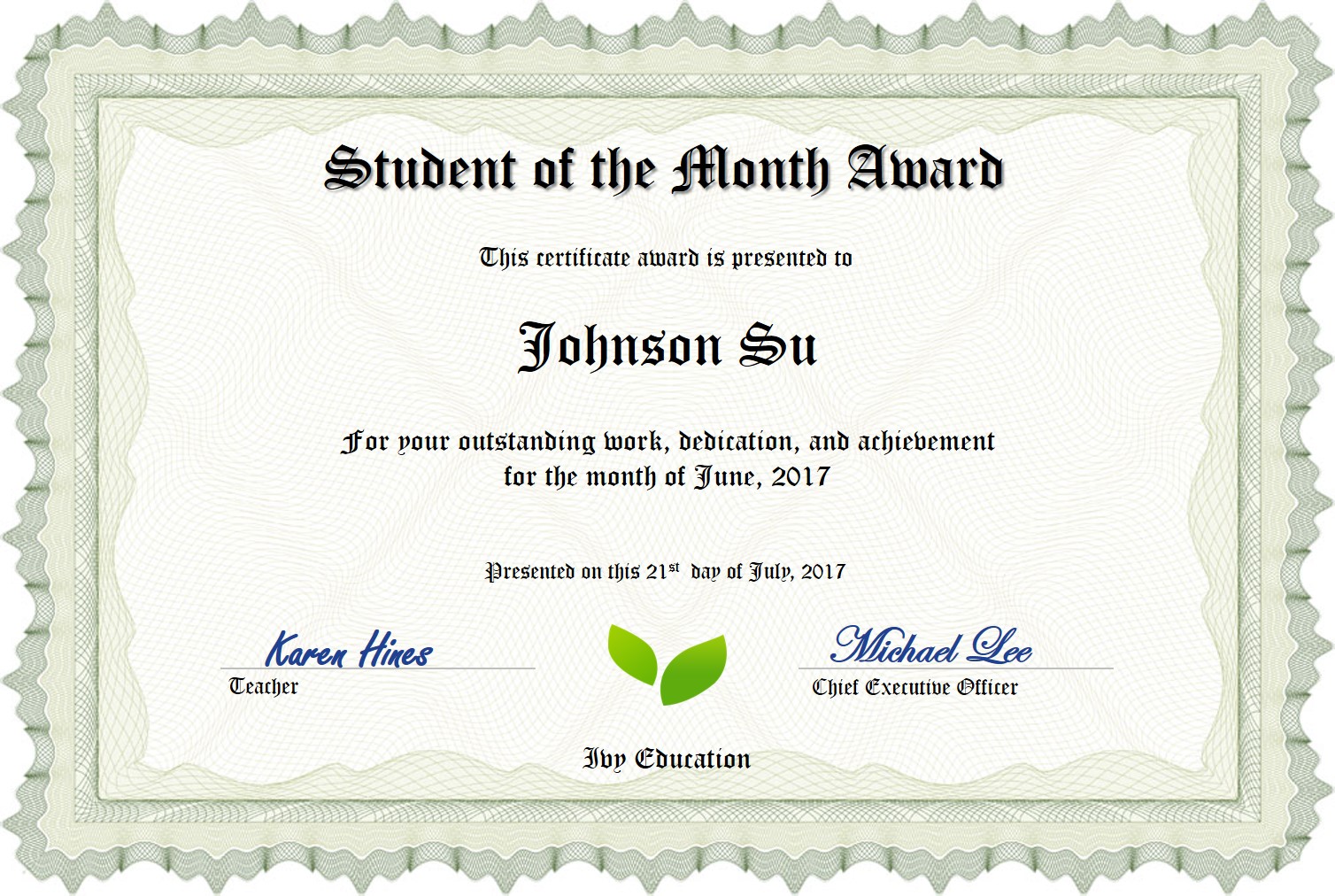 ---
Teacher Nancy:

I would like to nominate Emily Cai as student of the month. Emily is a very imaginative girl who loves to talk. She is able to describe her academic work, artwork, and family activities all while using clever vocabulary. She is funny and enjoys Clinker Castle in Reading Eggs; she likes to predict what the characters will do and what they are thinking. Her comments and questions show me she comprehends the stories very well. Emily has exceptionally good pronunciation while singing, a talent not easy for a second language student. Above all, Emily wants to be an excellent English student and that results in quick progress. It is entertaining and rewarding to be her teacher.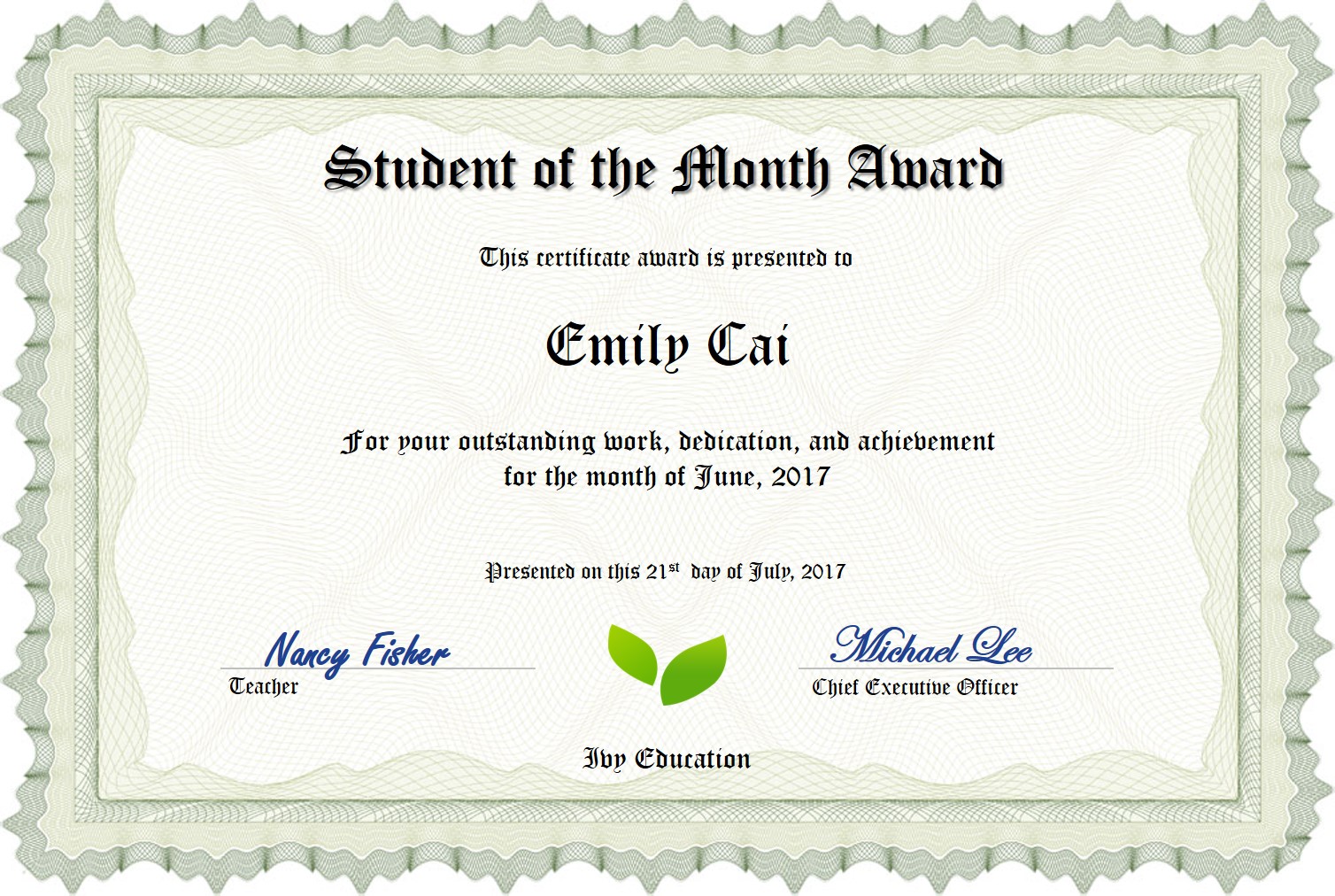 ---
Teacher Holly:

I would like to nominate Joyce Huang for student of the month. Joyce shows up to every lesson with a smile and always gives her best efforts! Joyce is a very personable student and at the beginning of every lesson she tells me something that happened during the past week with vigor and enthusiasm. Her conversational English has improved greatly in the short time she has been with me. Joyce also loves to write. She regularly completes homework reading comprehension assignments that require written answers. Joyce not only demonstrates excellent comprehension of the reading material in her written answers but also superb handwriting! Her penmanship is meticulous! I enjoy having Joyce as a student and look forward to our lessons every week.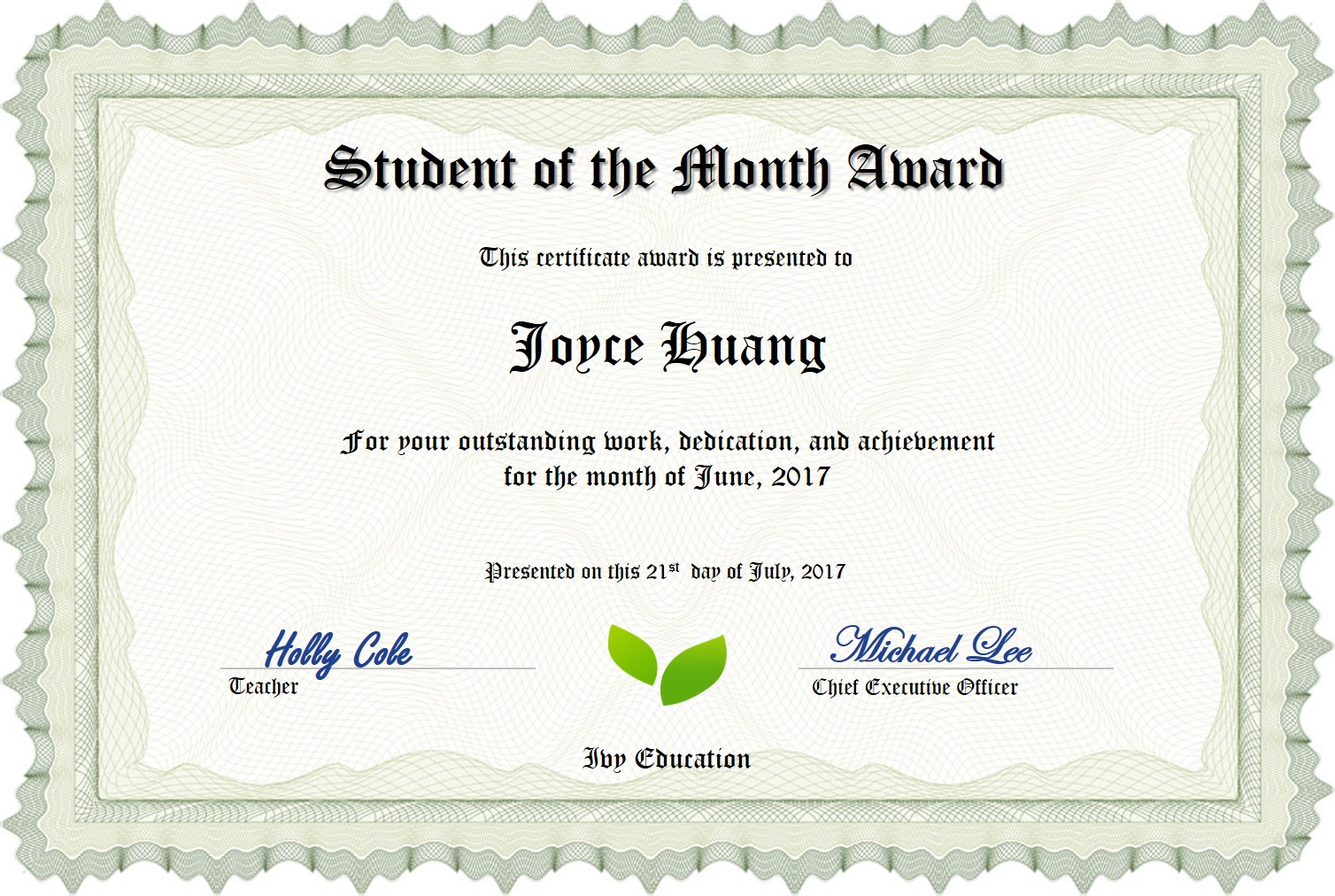 ---
Teacher Sandra:

I'd like to nominate Angela Xu for this month's student of the month. I am amazed at Angela's ability to read and understand books for her age group in English, such as "Charlie and the Chocolate Factory" and "Because of Winn-Dixie". She answers even the most difficult comprehension questions with unusual depth for students of her age, and her writing is always relevant and logical, with very few errors in grammar or mechanics. Her excitement when reading the stories out loud in particular is contagious and she is in all respects a very advanced student of English for her age.